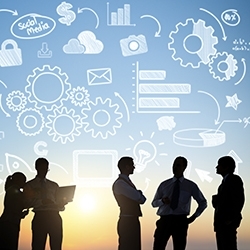 Society for New Communications Research (SNCR)
The Society for New Communications Research of The Conference Board (SNCR) is dedicated to the advanced study of the latest developments in new and emerging communications tools and technologies, including digital, social media, and mobile, and their effect on business, media, health, law, culture, and society. SNCR's Fellows include a leading group of futurists, scholars, business and communications leaders, members of the media and technologists from around the globe—all collaborating together on research initiatives, educational offerings, and the establishment of standards and best practices.
To learn more about our Fellows and their work, visit our Fellows Directory. Established as an independent not-for-profit institution by Jen McClure in 2005, SNCR joined The Conference Board in 2015 to operate as part of its larger organization. For more information on the Society for New Communications Research of The Conference Board (SNCR), please contact Alex Parkinson (alex.parkinson@conferenceboard.org) or Matteo Tonello (matteo.tonello@conferenceboard.org).
SNCR Fellows and experts from The Conference Board provide insights into trends and topical issues in new communications. See the most recent posts below, or click here to access the full blog.
Corporate Communications Evolves in an Era of Business Uncertainty—June 29, 2016 By Alex Parkinson
Growth in corporate communications department budgets, team sizes, and leaders' compensation, as well as the organizational choice of having senior communications officers report directly to the CEO, point to the fact that corporate communications is becoming increasingly critical to strategy execution and business growth.
Digital Health Trend Update—Digital Health Snake Oil?, Pharma's Big Digital Health Moment, Blockchain Frenzy and More—June 17, 2016 By Fard Johnmar
Welcome to the inaugural installment of the Digital Health Trend Update. Developed by digital health futurist, strategist and researcher, Fard Johnmar, this bi-weekly series provides you with an informative (and fun) overview of must-read insights, research and market events in the world of digital health.
How To Show Your Contribution to the Bottom Line—June 1, 2016 By Katie Paine
If you're wondering why showing a direct connection between press releases and company revenues is so difficult, one reason is that in today's omni-media environment, attribution is complicated, influences are many, and impressions & AVEs don't cut it any more.
Society for New Communications Research of The Conference Board Announces Annual Award Winners—May 20, 2016 By Alex Parkinson
The Society for New Communications Research (SNCR) of The Conference Board (SNCR) announced the winners of the 2016 SNCR Excellence in New Communications Awards.
Read The Conference Board's latest research on Communications and Marketing. Click here to access our complete portfolio of publications.
Corporate Communications Practices: 2016 Edition
Research Report, June 2016

The inaugural edition of this report analyzes benchmarking data from companies listed with the US Securities and Exchange Commission. The analysis finds, among other things, that the function is taking on a more strategic role at companies, as corporate communicators become key advisors to the CEO and the C-suite.

Corporate Use of Social Media
Director Notes, April 2016

Authored by Jim Naughton, Ahmed Tahoun, Clare Wang, and Michael Jung, the report shows that companies use social media to overcome a perceived lack of traditional media attention and that social media usage improves the company's information environment.

Staying Ahead of Change and Preparing for 2020: Insights from the 2015 Corporate Brand and Reputation Conference
Conference KeyNotes, November 2015
One of the best ways to build your brand is by getting the marketing, customer service, and sales teams to work together to provide the best customer experience possible.

2015 Fortune 500 and Social Media: Instagram Gains, Blogs Lose
Research Report, November 2015
This year's survey of social media use by the Fortune 500 finds 10 percent fewer companies blogging and an increase in the adoption of new tools such as Glassdoor and Instagram.

2015 Strategic Human Resources Communication and Social Media Workshops: New Structures and Processes that Drive Business Success
Conference KeyNotes, June 2015
We are living in an era of communication 2.0, and that changes the nature and responsibilities of the human resources function.
A collection of award-winning case studies from the prestigious Excellence in New Communications awards program, which honors the innovative use of digital and social media, mobile, collaborative technologies, and other emerging communications technologies to improve business, culture, media and society. Browse more than 300 cases by year.
A collection of tip sheets to promote best practices surrounding the development, adoption, usage, monitoring and measurement of new communications tools and technologies. Access the SNCR Best Practices Tip Sheet archive.
Access our benchmarks on organizational and leadership practices on public relations and employee communications. Comparative data include CCOs' professional background, reporting relationships, functions and responsibilities, budgetary resources, performance measurement standards, outsourcing policies, and the use of social media. Benchmarks by business industry and company size groups are available.