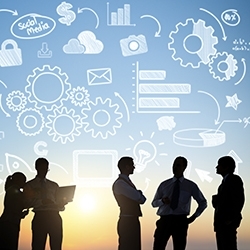 Society for New Communications Research (SNCR)
The Society for New Communications Research of The Conference Board (SNCR) is dedicated to the advanced study of the latest developments in new and emerging communications tools and technologies, including digital, social media, and mobile, and their effect on business, media, health, law, culture, and society. SNCR's Fellows include a leading group of futurists, scholars, business and communications leaders, members of the media and technologists from around the globe—all collaborating together on research initiatives, educational offerings, and the establishment of standards and best practices.
To learn more about our Fellows and their work, visit our Fellows Directory. Established as an independent not-for-profit institution by Jen McClure in 2005, SNCR joined The Conference Board in 2015 to operate as part of its larger organization. For more information on the Society for New Communications Research of The Conference Board (SNCR), please contact Alex Parkinson (alex.parkinson@conferenceboard.org) or Matteo Tonello (matteo.tonello@conferenceboard.org).
In Phase 1 of our research into marketers' and advertisers' awareness and intended actions with regard to fake news, lead researcher Jeff Pundyk provides an overview of the data collected through a survey of 115 marketers and advertisers.
SNCR Fellows and experts from The Conference Board provide insights into trends and topical issues in new communications.
Read the latest edition of our monthly online publication series. You can download past editions here, or subscribe to a monthly digest from the blog and series here.
Blockchain Technology: The Marketing Value of Digital Permanence

SNCR 2020 Series, November 2017

Blockchain technology has the potential to be transformational. For communications and marketing, this change could come sooner rather than later.


The State of Digital and Social Media Risk Management

SNCR 2020 Series, October 2017

Although digital governance teams and Digital Centers of Excellence are becoming common oversight structures, most do not yet have fully optimized, managed, and resourced processes and programs to manage new and growing types of digital and social media risks.

Millennials and Social Commerce: Engagement Leads to Sales but Paid Social May Not
SNCR 2020 Series, July 2017

"Social commerce" typically refers to electronic commerce that uses social networks—including user ratings, referrals, online communities, and social advertising—to assist in the buying and selling of products. Millennials, people between the ages of 17 and 34, have been quick to adopt and use social commerce. This SNCR 2020 article is the second edition of a study that investigates how millennials' activity on social media translates into sales for companies and brands.
Read The Conference Board's latest research on Communications and Marketing. Click here to access our complete portfolio of publications.
Socially Minded: Convincing the C-suite of Social Media's Benefits
Research Report, May 2017

Social media, so integral to society and business, is still viewed with skepticism by many senior leaders. This is particularly true in the B2B sector, which has a harder time demonstrating the concrete transactional benefits that result from social media. But those benefits aren't just about direct advertising or direct revenue generation. In this report, we uncover the range of benefits that companies experience from social media and consider how to better engage the C-suite on the technology's potential.

Unlocking Value from Integrated Corporate Communications and Marketing
Research Report, September 2016

The growing complexity of business in the era of digitization and the constantly shifting and accelerating demands of stakeholder relationships are forcing a rethink when it comes to the corporate communications and marketing functions. This report analyzes the trend toward integration of these two functions.


Corporate Communications Practices: 2016 Edition
Research Report, June 2016

The inaugural edition of this report analyzes benchmarking data from companies listed with the US Securities and Exchange Commission. The analysis finds, among other things, that the function is taking on a more strategic role at companies, as corporate communicators become key advisors to the CEO and the C-suite.

Corporate Use of Social Media
Director Notes, April 2016

Authored by Jim Naughton, Ahmed Tahoun, Clare Wang, and Michael Jung, the report shows that companies use social media to overcome a perceived lack of traditional media attention and that social media usage improves the company's information environment.
A collection of award-winning case studies from the prestigious Excellence in New Communications awards program, which honors the innovative use of digital and social media, mobile, collaborative technologies, and other emerging communications technologies to improve business, culture, media and society. Browse more than 300 cases by year.
A collection of tip sheets to promote best practices surrounding the development, adoption, usage, monitoring and measurement of new communications tools and technologies. Access the SNCR Best Practices Tip Sheet archive.
Access our benchmarks on organizational and leadership practices on public relations and employee communications. Comparative data include CCOs' professional background, reporting relationships, functions and responsibilities, budgetary resources, performance measurement standards, outsourcing policies, and the use of social media. Benchmarks by business industry and company size groups are available.