HELP WANTED ONLINE
The Conference Board®-The Burning Glass® Help Wanted OnLine® (HWOL) program measures the demand for labor in the United States using advertised online job vacancies. Help Wanted OnLine® reflects trends in employment opportunities across the U.S. and may be a leading indicator of the labor market and overall economic activity. HWOL is available by geography, occupation, industry, and skills and publishes monthly press releases on changes in online job ads.
INSIGHTS FOR WHAT'S AHEAD
1. GROWTH IN REMOTE WORK
There has been a large increase in the share of office job ads that mention remote work in 2020. Shown in Chart 1 is the change in online job ads mentioning remote work between the weeks before the pandemic and the weeks ending in 2020. Using a 16-week moving average of daily online job ads, finance and insurance and computer related occupations exhibited the largest increase in remote work opportunites. Many high skill occupations in these job categories had relativiely higher rates of remote work pre-pandemic, allowing for a quicker transition to full time remote once the pandemic hit.
Lower skill office jobs including office support and clerical occupations also experienced significant growth in job ads mentioning remote work. Before the pandemic, clerical/admin office workers were less likely to work from home. A large percentage of these workers are hourly/non-exempt (eligible for over-time pay), which creates complications in a remote work environment. The COVID-19 pandemic appears to have diminished these barriers as lockdowns forced companies to deal with these issues. A more permanent shift to remote work appears likely for these jobs.
Chart 1. Remote work options are mentioned more often in job ads for certain occupations
The change in the share of remote work ads between the last 16 weeks ending in February 29 and the last 16 weeks ending December 5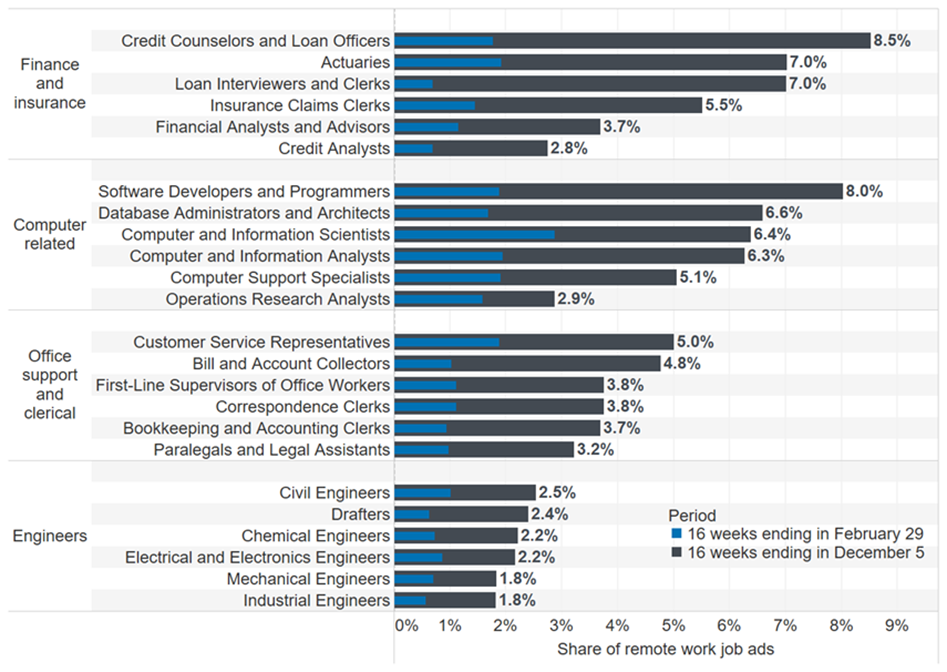 Source: The Conference Board®-Burning Glass® Help Wanted OnLine® (HWOL) data series
2. THE DECLINE OF CITY CENTERS
Much of the drop in hiring activity in the US occurred in principal cities of large metro areas. A large share of the population has been working from home full time, resulting in a drastic drop in commute and travel to principal cities, areas with high concentrations of workplaces. Fewer commuters from the suburbs resulted in less economic activity in these impacted areas, especially in the food service sector.
Comparing the last quarter of 2019 to the last quarter of 2020, the chart below shows that principal cities in the largest metro areas experienced the largest drop in the number of online job ads relative to the other five geographic groups in the United States:
Principal cities in the largest 25 metro areas (e.g. New York City, Miami, Denver)
The largest 25 metro areas excluding their principal cities
The principal cities in the next 75 largest metro areas, ranked 26-100 (e.g. Nashville, Milwaukee, Greenville, SC)
The next 75 largest metro ares excluding their principal cities
The rest of the country – all smaller metro areas and non-metro area communities
The impact on principal cities is even greater for food service occupations where restaurants and bars are serving fewer commuters.
Outside of principal cities in large metro areas, the number of online job ads increased. This is likely due to increased spending in local communities and an increase in residents from principal cities that left for less densely populated locations in adjacent suburbs or nearby rural areas.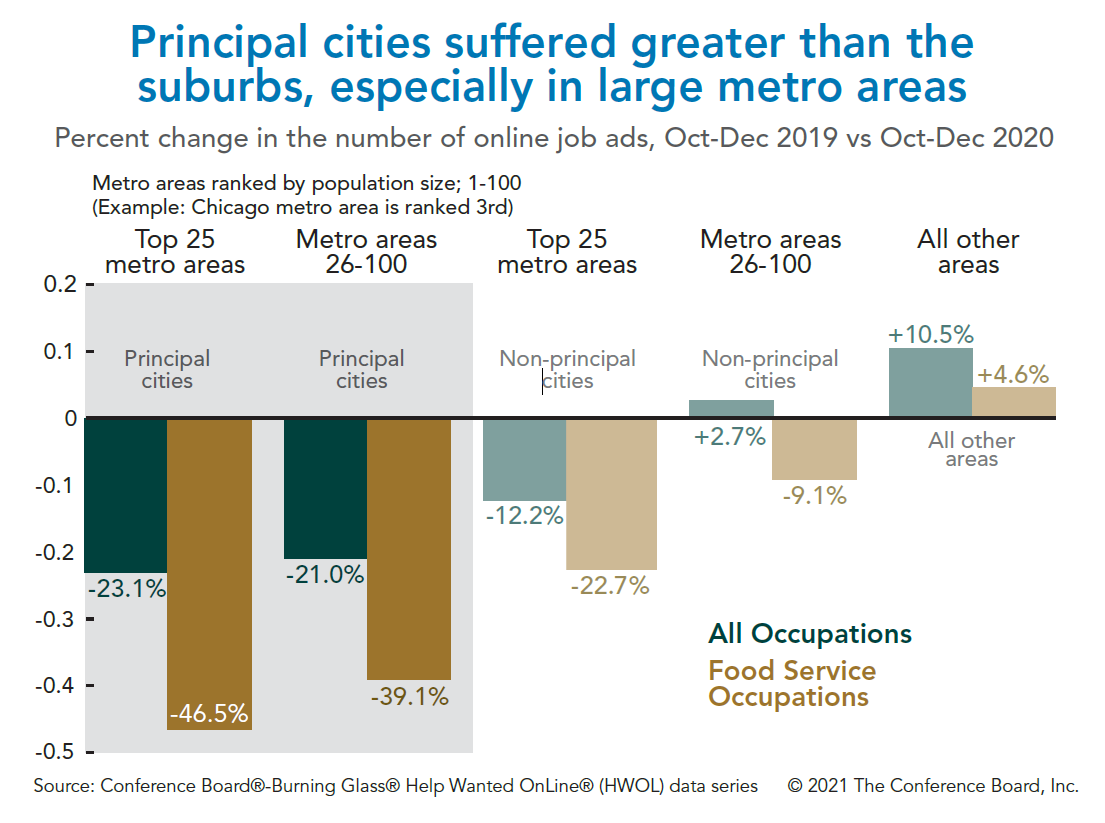 3. EMERGENCE OF TECH HUBS
The largest tech companies have already expanded outside of Silicon Valley years before the pandemic, and these trends are likely to continue. Shown in Chart 2, top tech companies are hiring for tech jobs in metro areas all around the United States.
Tech companies are defined as those belonging to the following industry sectors:
Internet Based Services
Internet Media
E-Commerce Discretionary
Technology
The top 400 companies ranked by market share were used to create the sample of top tech companies. The sample of tech occupations was created using 16 Computer and Mathematical Occupations and 3 Engineering Occupations defined at 6-digit Standard Occupational Classification (SOC) level.
Tech ads are therefore defined using the sample of occupations and companies, e.g. jobs ads in HWOL for tech occupations for the top 400 tech companies.
Chart 2. Large concentration of tech ads for top tech companies are on the East and West Coast
Tech ads for the top tech companies as a share of total ads, 2018-2020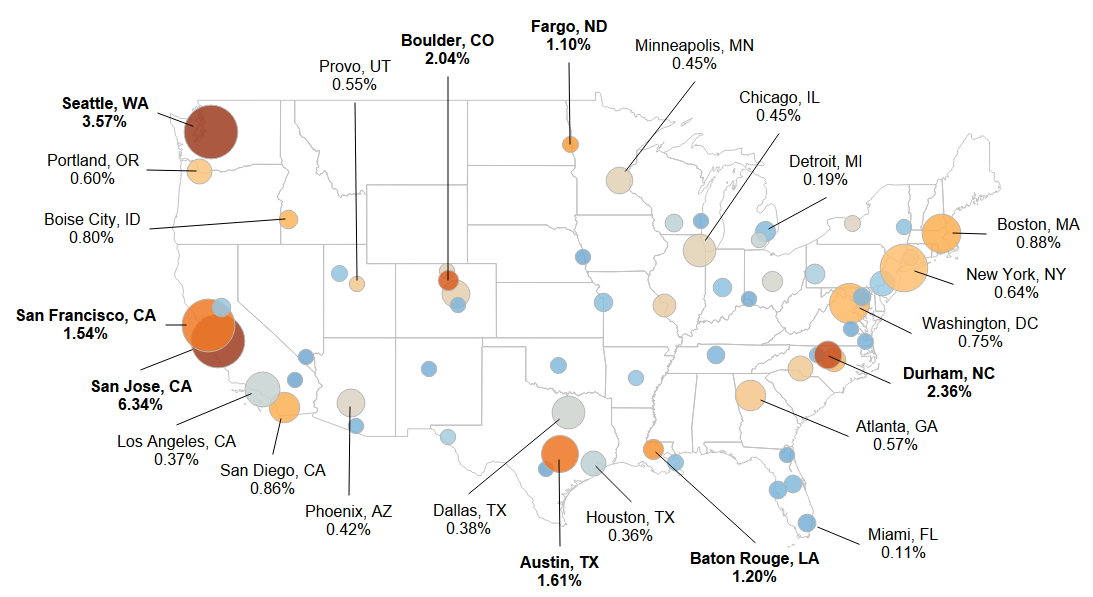 Source: The Conference Board®-Burning Glass® Help Wanted OnLine® (HWOL) data series
From 2018 through 2020, most tech ads are in the Bay Area and Seattle, areas commonly referred to as tech hubs. But concentrations in are also present in other metro areas in the West including San Diego, Portland, Denver, Boulder, Boise City, Phoenix, Salt Lake City, and Provo. There is a strong concentration in Texas, especially Austin, but also in Dallas and Houston. In the Northeast, most tech ads are concentrated in Boston and New York City.
In the South, there is a strong concentration of tech ads in the Research Triangle of Durham and Raleigh, NC. Charlotte, Atlanta, and Washington, DC also possess signifant shares of tech ads. For the rest of the South, however, big tech has a small presence. Large metro areas in Florida, including Miami, have very small concentrations of tech ads.
The Midwest, the center of manufacturing in America, is largely ignored by the big tech companies. Large metro areas including Chicago, Detroit, and Minneapolis all have small concentrations of tech ads.
PRESS RELEASES & iN THE NEWS
Our Experts
Vice President, Labor Markets

Associate Director, Help Wanted Online®
Associate Economist