GLOBAL ECONOMIC OUTLOOK
June 2021
For our suite of reports, please scroll down to 'Global Economic Outlook Content'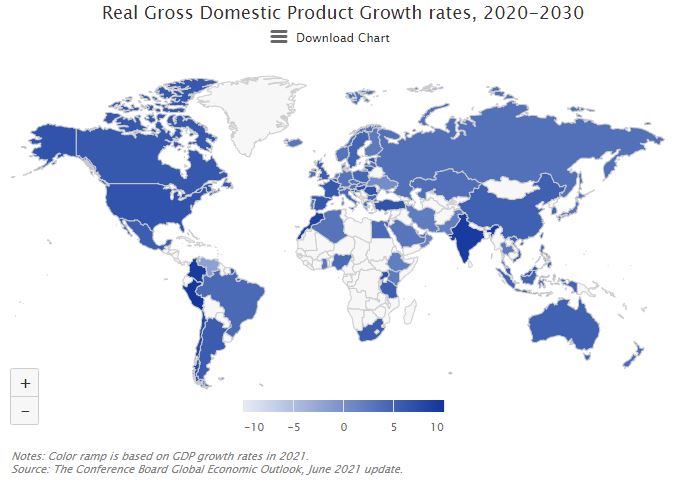 The global economy is on course to rebound from the pandemic-induced recession in 2021 led by an increasing number of large economies. So far, outsized consumer demand for goods and exports to satisfy that demand have fueled much of the global economic recovery. Importantly, considerable monetary and fiscal policy supports enabled select economies to capitalize on the goods consumption-exports revival more than others.
Still, this mix of growth is unsustainable and likely will give way to a more balanced recovery that includes consumption of in-person services, capital investment, and greater exports from the rest-of-world instead of domination by high-tech and manufacturing hubs in Asia. This rotation is expected to produce global real GDP growth north of 5 percent year-on-year in 2021, and above-trend growth in 2022.
However, there are plenty of pitfalls and roadblocks that may hinder the global economic rebound and expansion. Businesses should be aware of these factors that might curtail return to "normalcy."
1. First, and likely foremost, is the evolution of the coronavirus itself and the way that governments react to additional waves of infection. Moreover, how quickly governments can vaccinate their populaces to attain herd immunity, a feat that is pivotal to returning to uninhibited economic activity.
2. Second, are frictions in global supply chains and labor markets that are inducing inflationary pressures presently. Those pressures may become so acute that consumers pull back on activity, having negative knock-on effects on business production and investment, and global trade. Moreover, central banks may tighten monetary policy to address elevated inflation rates, which would also slow growth.
3. Third, are government policies that might stop the free flow of people, goods, services, and money across borders. Actions include the indefinite use of international travel bans, industrial policies towards global supply chains, capital controls, and business investment prohibitions in foreign markets.
4. Finally, central banks and governments must carefully unwind the extraordinary amount of stimulus implemented during the worst of the pandemic to mute the effects of the adjacent recession. Removal of accommodation too aggressively stands to thwart the global economic revival, while maintaining easy policies for too long poses financial stability risks.
In the long term, beyond 2023, The Conference Board projects global growth to return to an average annual rate of around 2.6 percent. The severe contraction induced by the global pandemic leaves a permanent scar on global growth in the long run, but global growth is expected to return to close to previous projections. Factors that have for a large part driven global growth in the last two decades, including the greater supply of labor and fast growth in capital stock to worker ratios, are expected to weaken substantially over the next decade. This will only be partially offset by a shift towards qualitative growth sources, driven by accelerating digital transformation and productivity improvements.
REGIONAL INSIGHTS FOR WHAT'S AHEAD
The Conference Board forecasts that US Real GDP growth will rise to 9 percent (annualized rate) in Q2 2021 and 6.6 percent (year-over-year) for the full year 2021. Following solid economic growth in Q1 2021 growth should further accelerate in Q2 2021 and Q3 2021. The primary driver of this rapid expansion will be a surge in consumer spending as the economy fully reopens. High and increasing vaccination rates and low new COVID-19 case numbers indicate that the reopening process may be complete for much of the country by the end of the summer. The rapid acceleration in growth has led to heightened concerns about rising inflation. Presently, inflation is forecasted to peak in Q4 2021 with the price level for personal consumption expenditures (PCE) – the US Federal Reserve's preferred inflation metric – rising to 2.8 percent (year-over-year) and Core PCE inflation rising to 2.3 percent (year-over-year). It is unclear whether the Fed would tolerate inflation rising to these rates for an extended period of time. However, inflation pressure should abate in 2022 and 2023.
After contracting by 6.8 percent in 2020, The Conference Board forecasts GDP to expand by 4.2 percent in 2021 and 3.6 percent in 2022.As lockdowns were extended in most countries and with a slower-than-expected vaccine rollout weighing on confidence, quarter over quarter growth in the Euro Area declined again in the first quarter of 2021. This brought the common currency bloc into a so-called technical recession, although employment and industrial production (coincident indicators) are above their levels six months ago. However, following the stall, growth in the Euro Area should pick up from Q2 onwards. As the vaccination distribution in continental Europe gathers speed and restrictions are lifted, CEO's and consumers are becoming increasingly optimistic, judged by a jump in business confidence in May. Inflationary pressures are rising as well, but so far are mostly concentrated in volatile items and in producer prices. It's unclear to what extent these price pressures will be passed on to consumers, but it is likely that core inflation will increase in the coming months as service sector activity rebounds.
For 2021 The Conference Board expects official GDP growth to come in at 8.6 percent, slowing down to 5.7 percent next year. China's economic growth continued to steady in April, but it was essentially driven by strong export growth and resilient real estate investment. Both drivers are likely to be resilient over the short term, basically ensuring that China's Q2 GDP growth will be strong. However, both growth drivers are arguably unsustainable, as the monetary environment and trade environment continue to normalize. Current producer price inflation might further intensify in the coming months before it levels off in late 2021. As down-stream producers mostly absorb rising prices into their profit margins, consumer prices are unlikely to rise as significantly as the PPI inflation. Despite the inflationary pressure, the PBOC probably will not shift current monetary stance in the near term. Sluggish household consumption growth and weakening manufacturing investment growth raise concerns about the longer-term picture.
Driven to a large extent by a reduction in energy-related GDP, overall GDP declined by 4.7 percent in 2020. For the full year 2021 we again expect a stronger contribution from non-energy related GDP to drive overall GDP growth of 2.7 percent. A fuller resumption of global oil demand and related Gulf oil production should then lift the 2022 GDP growth rate to 3.7 percent. Oil prices surpassed pre-pandemic levels in early 2021 and are expected to peak in the third quarter of this year. After that we forecast prices to decline again, following the end of OPEC+ production cuts which should lead to a surge in supply. Countries that have long realized that heavy reliance on oil revenues is not sustainable and are committed to their development plans (to support the non-oil economy) will have a head start in the race towards recovery. Hence, the 2021 economic recovery of the Gulf countries will diverge drastically, with Saudi Arabia, Qatar and the UAE rebounding rather faster than Oman, Bahrain, and Kuwait.
To access our forecasts in excel format, click here.
For an overview of the methodology of the medium-term growth projections, please see our working paper and our changes notes (October 2020).
Chart 1: Quarterly real GDP index: COVID-19 versus global financial crisis of 2008-2009
The Conference Board Global Economic Outlook, 2011-2030
Real GDP Growth Rates (Average Annual Percent Change)
2011-2019
2020
2021
2020-2023
2024-2030
United States
2.3
-3.5
6.6
2.3
1.8
Europe
1.6
-6.5
4.4
0.7
1.2
Euro Area
1.2
-6.8
4.2
0.5
1.0
United Kingdom
1.9
-9.8
5.6
0.1
1.4
Japan
1.0
-4.7
2.7
0.4
0.9
Other Mature Economies
2.7
-2.2
5.8
2.4
2.6
All Mature Economies
1.9
-4.7
5.2
1.5
1.6
China
4.4
1.4
5.1
3.3
3.2
India
6.8
-7.1
9.3
3.4
5.5
Other Developing Asian Economies
5.0
-3.1
4.2
2.8
4.6
Latin America
1.1
-7.5
5.5
0.4
1.7
Brazil
0.7
-4.4
4.1
0.6
1.3
Mexico
2.4
-8.5
5.5
0.4
1.7
Middle East & North Africa
2.8
-2.8
3.2
1.5
2.6
Gulf region
3.3
-4.7
2.7
0.8
2.0
Sub-Saharan Africa
3.6
-1.6
4.1
2.5
3.7
Russia, Central Asia and SE Europe
2.8
-1.5
4.2
1.9
2.4
Russia
1.7
-2.9
3.4
1.2
1.7
Turkey
5.5
1.6
6.5
3.5
3.3
Emerging markets and developing economies
3.9
-2.7
5.3
2.5
3.5
World
2.9
-3.7
5.3
2.0
2.6
Addenda
United States (Adjusted)
2.4
-3.3
6.8
NA
NA
China (Official)
7.4
2.3
8.6
NA
NA
India (Fiscal Year)
6.5
-7.3
9.4
NA
NA
Notes: Chinese data are based on alternative GDP measures, See Harry Wu, China's Growth and Productivity Performance Debate Revisited—Accounting for China's Sources of Growth with a New Data Set, The Conference Board, 2014. The data was updated and revised in May 2020 and the historical data series are available through The Conference Board's Total Economy Database; United States (adjusted) refers to our alternative GDP series for the US which are revised upward as they are based on alternative price deflators for ICT investment goods and services.
Source: The Conference Board Global Economic Outlook, June 2021
Economy Watch

Monthly report that provides economic forecast and insights to both global and domestic businesses.
Everybody has an opinion. We have the data.
The Conference Board: Consensus Economics® Forecast Accuracy Award Winner US 2016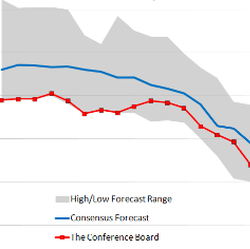 Global Economic Outlook Data 2020 October
Global Growth Projections for The Conference Board Global Economic Outlook 2019
PRESS RELEASES & iN THE NEWS