Hot Off The Press: Fit to Compete
19 December, 2019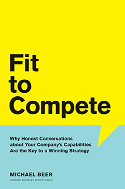 When employees can't speak truth to power, senior leaders don't hear what they need to hear about their company's fitness to compete, and employees lose trust in those leaders and become less committed to change.
Join Michael Beer as he discusses his latest book which presents an antidote to silence – a time-tested innovative process used by hundreds of organizations for holding critical and honest conversations with everyone in your organization.
Learn more or purchase a copy of this book here.
Speakers
Michael Beer
Cahners-Rabb Professor of Business Administration
Harvard Business School

Mike Beer is Cahners-Rabb Professor of Business Administration, Emeritus at the Harvard Business School, co-founder and Director of TruePoint Partners, a management consultancy that works with senior executives to develop effective high performance and commitment organizat...Full Bio