International Comparisons of Manufacturing Productivity and Unit Labor Costs Trends, 2015
30 June 2016
Developments in Manufacturing Productivity, 2014-2015
*Based on preliminary estimates for 2015
Manufacturing productivity growth continued to slow from 2014 to 2015 in nearly two-thirds of economies compared, dipping below 1 percent in 12 of 22 economies

US manufacturing registered a marginal increase from no productivity growth in 2014 to 0.4 percent in 2015

Productivity in the Euro Area has improved by more than half a percentage point from 1.1 percent in 2014 to 1.7 percent in 2015

Manufacturing productivity in Germany remained below 1 percent, while Irish productivity surged to double digits
To view international comparisons of productivity see Table 1.
Click on image to view chart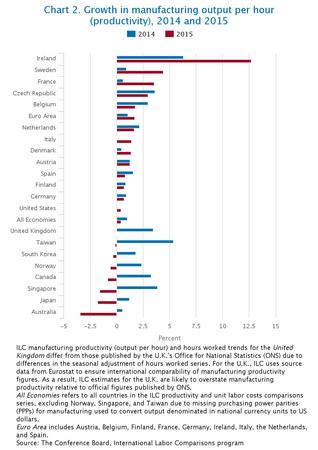 Developments in Manufacturing Unit Labor Costs, 2014-2015
*Based on preliminary estimates for 2015
During 2014-2015, changes in unit labor costs in USD terms were primarily driven by exchange rate fluctuations, rather than productivity growth

The strong appreciation of the dollar beginning in mid-2014 deteriorated US manufacturing competitiveness relative to all economies compared

The marginal increase in US productivity from 2014 to 2015 could not offset currency led losses in competitiveness

For nearly all economies, rising competitiveness was the result of currency advantages, as dismal productivity growth could not overtake increases in labor cost
To view international comparisons of unit labor costs see Table 3.
Click on image to view chart
Download Data and Related Products
To download the complete International Comparisons of Manufacturing Productivity and Unit Labor Costs Trends dataset and to view related data products please see the Data page.