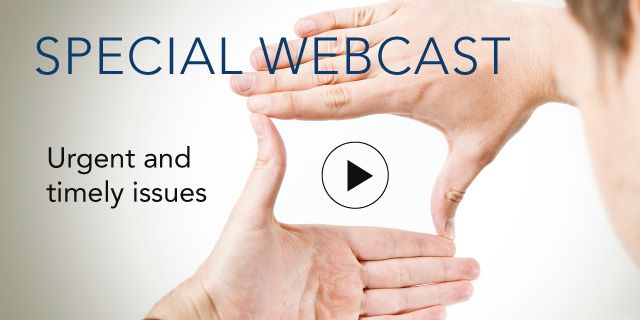 Canada, the United States and Brexit: Oceans Apart?

17 January, 2017 | (01 hr)
Sign In to access this Webcast
Brexit looms as one of the biggest economic factors shaping the global economy in 2017. The negotiations between the United Kingdom and European Union are unprecedented, and they have the potential to wash up on the shores of the United States and Canada. The two North American neighbors have extensive and long-standing trade ties to both the UK and EU, but they appear to be headed in different directions. Canada has just signed a free-trade agreement with Europe, while the US seems poised to look inward.

This Special Webcast, featuring experts from Canada, the US, and Europe, provides the best evidence and analysis of the cross-Atlantic implications of Brexit. Find out what your business needs to know in this turbulent environment.
Who Should Attend: Directors and VPs at Canadian and US multinationals responsible for understanding changing markets, exporting firms, industry analysts, or mid- and senior-level Canadian government officials responsible for trade and economic development
Earn 1 CPE credit
Economics
Requirements : Attendees must be logged on for the duration of the webcast, participate in all interactive polls, and request credits via the on-screen form. Delivery Method: Group-Internet Based Program Level: Intermediate, Prerequisites: Bachelor's degree or higher, Advanced Preparation: None
Speakers
Ilaria Maselli
Senior Economist
The Conference Board

Ilaria Maselli has been the senior economist for Europe at The Conference Board since March 2016. Maselli monitors the monthly business cycle of the European economy and contributes analysis to The Conference Board Global Economic Outlook. She also contributes to in-dept...Full Bio

Michael Keaveney
Regional Director, UK & Ireland
The Conference Board

Michael Keaveney was appointed Regional Director UK & Ireland at The Conference Board in October 2015. Prior to his appointment he was Director Great Britain at the British Irish Chamber of Commerce and took an active part in that organization's promotion of trade policy between Britain...Full Bio

Pedro Antunes
Chief Economist
The Conference Board of Canada

Pedro Antunes is the Chief Economist and primary spokesperson at The Conference Board of Canada. He provides insights and general direction for the Board's economic products, including reports and economic indicators that relate to Canada and its regions and sectors. Pedro provides media in...Full Bio

Bart van Ark (Moderator)
Senior Advisor
The Conference Board

Bart van Ark is a Senior Advisor of the Economy, Strategy and Finance (ESF) Center at The Conference Board. From 2008 until September 2020 he was Chief Economist and Head ...Full Bio