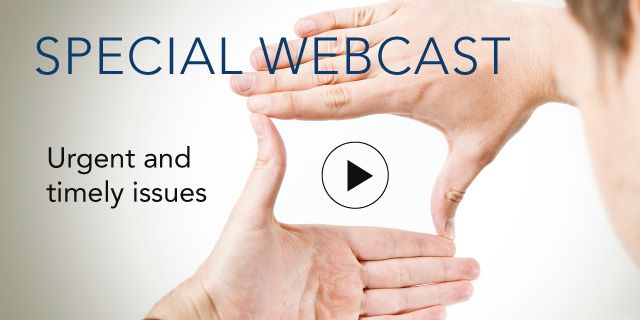 Chain Reactions of Brexit on Business
Special focus on Germany, Belgium and The Netherlands
08 December, 2016 | (01 hr)
Sign In to access this Webcast
Trade ties between the UK and Germany, Belgium, and the Netherlands are substantial. Exports to the UK amount to 3 percent of Germany's GDP. This number is even higher for Belgium. In the case of the Netherlands, it is large inflows and outflows of foreign direct investment to the UK that are at risk. What kind of issues will Brexit create for companies located in these countries?
Key Learnings:
What impact Brexit can have on companies located in central Europe?
Which industries will be most affected?
What are the possible gains?
Earn 1 CPE credit
Economics
Requirements : Attendees must be logged on for the duration of the webcast, participate in all interactive polls, and request credits via the on-screen form. Delivery Method: Group-Internet Based Program Level: Intermediate, Prerequisites: Bachelor's degree or higher, Advanced Preparation: None
Speakers
Jürgen Matthes
Senior Economist
Cologne Institute for Economic Research

Juergen Matthes is a Senior Economist at the Cologne Institute for Economic Research (Institut der deutschen Wirtschaft Köln – IW Köln). Since 2012, he has been Head of the Research Unit "International Economics and Economic Outlook". Before, he held several posi...Full Bio

Dr. Hartmut Mayer
Region Head, Western Europe
Oxford Analytica
Official Fellow and Tutor in Politics
University of Oxford

Fellow in Politics at St Peter's College, Oxford; currently also Adjunct Professor in European and Eurasian Studies at Johns Hopkins University, SAIS Bologna, and Region Head, Western Europe at global analysis and advisory firm, Oxford Analytica. ...Full Bio

Ilaria Maselli (Moderator)
Senior Economist
The Conference Board

Ilaria Maselli has been the senior economist for Europe at The Conference Board since March 2016. Maselli monitors the monthly business cycle of the European economy and contributes analysis to The Conference Board Global Economic Outlook. She also contributes to in-dept...Full Bio