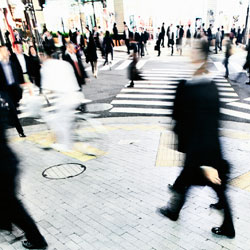 Human Capital Watch™: DNA of Engagement: The Impact of Highly Engaging Leaders

16 December, 2015 | (01 hr)
Sign In to access this Webcast
Following the DNA of Engagement: How Organizations Create and Sustain Highly Engaging Cultures report in 2014 which profiled top organizations for employee engagement, The Engagement Institute™ continues its exploration by examining the impact "highly engaging" leaders at all levels have in supporting not only an engaging culture but also organizational success.
This webcast will reveal the elements these "highly engaging" leaders have in common, the organizational processes that support them, the view from the employee regarding engaging leaders and the behaviors practiced by the leaders at the various levels.

Organizations participating in the study include: Mahindra and Mahindra, Quicken Loans, Caterpillar, Wipro, The Coca-Cola Company, US Patent & Trademark Office, McDonald's, The Mayo Clinic, US Army Audit Agency, Cardinal Health, Accenture, Deloitte, and Teach For America.
Speakers
Kelly Kuras
Senior Global Manager of Talent Evaluation and Employee Engagement Strategies
General Motors

Kelly Kuras is the Senior Global Manager of Talent Evaluation and Employee Engagement Strategies at General Motors. Global Project Manager of Employee Engagement Strategies for General Motors. Her responsibilities include delivering the employee engagement survey to 64 countries and over 200,000 ...Full Bio

Jay Long
Projects Manager, Personnel - Employee & Labor Relations
Michelin North America

Jay Long possesses over 25 years experience in manufacturing. He currently works at MICHELIN North America as a Project Manager in Personnel, on the Employee/Labor Relations team, focusing specifically on issues related to Employee Engagement for U.S., Canada, & Mexico.

In 1...Full Bio

Rebecca L. Ray, PhD (Moderator)
Executive Vice President, Human Capital
The Conference Board

Rebecca Ray is the Executive Vice President, Human Capital, at The Conference Board. She leads the US Human Capital Center and is responsible for member engagement and retention as well as the overall quality and continuing integration of all research and offerings across the human capital spectr...Full Bio