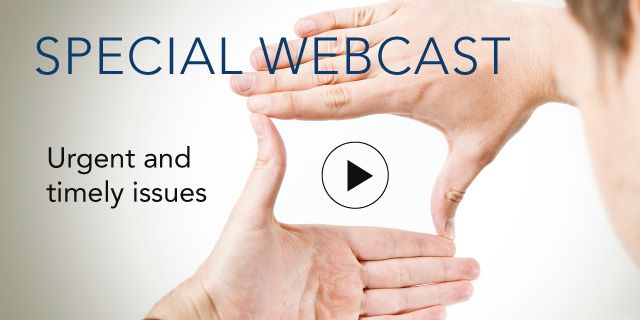 ESG Rating and Ranking Initiatives — A Necessary Evil?

06 June, 2018 | (01 hr)
Sign In to access this Webcast
Over the past 20 years, there has been explosive growth in responsible investing, a trend most view in a positive light. But an aftereffect of responsible investing has been a rise in the number of environmental, social, and governance (ESG) rating agencies and sustainability assessment tools.
Join us as we look at the evolution and emergence of the ESG initiatives industry and share key findings from our latest report on this topic.
Key Learnings:
ESG rating and ranking initiatives and the role they play for investors
Business perspectives on ESG initiatives
Which rating agencies are considered important
What value businesses get by responding to ESG information requests
What rating agencies expect from businesses in relation to ESG
What the future holds for ESG initiatives
Tips on how businesses can manage ESG workload
Speakers
Véronique Menou
Executive Director
MSCI Inc.

Véronique Menou is Global Head of ESG Index Research and Strategic Initiatives within MSCI ESG Research. Her role consists in developing and enhancing investment tools that leverage the models, content, data, and expertise of MSCI ESG Research products. She is respon...Full Bio

Stephanie Mooij
Doctoral Researcher Responsible Investment
Oxford University

Stephanie Mooij is a final year doctoral researcher at the Smith School of Enterprise and the Environment, Oxford University. Her research is focused on the drivers and bottlenecks to responsible investment at different levels of the investment chain. Prior to starting her ...Full Bio

Anuj Saush
Senior Sustainability Researcher - Europe
The Conference Board

Anuj Saush leads the sustainability research practice for the Sustainability Centre in Europe. He started his career as an environmental consultant, focusing on strategy, innovation, and compliance, and then transitioned into corporate susta...Full Bio

Dr. Uwe G. Schulte (Moderator)
Leader, Global Sustainability Centre and Program Director
The Conference Board

Dr. Uwe G. Schulte is Leader, Global Sustainability Centre, and Program Director for the European Sustainability Council at The Conference Board.

Schulte was executive director of the INSEAD Social Innovation Centre and spent most of his professional career at Unilever. In his final role,...Full Bio