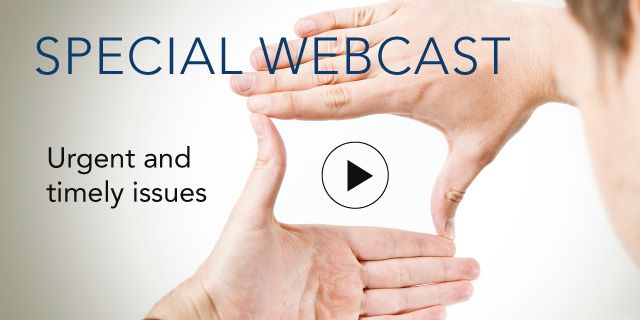 Human Rights Risk: A Critical Business Imperative - Part II

30 May, 2013 | (01 hr)
Sign In to access this Webcast
Join us for this 2 Part webcast as we examine the area of human rights risk and the possible wide-ranging impacts on corporations. While many companies think of human rights in terms of compliance or ethics, it is a risk that is much broader. We will talk to experts from NGOs who have been active in this area for some time and with company representatives who are taking action to help mitigate human rights risk.
In Part 2 of this Webcast we will hear from companies that have taken an active role to address human rights in their day to day business operations. Human rights violations have become so well publicized that companies risk losing their license to operate in some countries. Company representatives will share why this has become an important issue for them and how they are able to educate people in their organisations to consider human rights risk.
Key questions addressed:
Why has the area of human rights risk become important for Nestlé and Total?
What are the consequences of violating human rights?
How has human rights risk moved beyond just a compliance exercise?
How are operations incorporating changes in processes to mitigate human rights risks?
Who should attend
Executives from: Risk, HR, Procurement, Supply Chain, Audit, Compliance, Legal, Operations, Ethics, Sustainability, Finance, Corporate Social Responsibility.
IF YOU HAVEN'T ALREADY REGISTERED FOR PART I, CLICK HERE
Speakers
Marc Schaedeli
Head of Group Risk Management
Nestlé S A

Marc is the Head of Group Risk Management at Nestlé, based in Vevey / Switzerland. For the last 10 years he has built up and further developed world-wide Enterprise Risk Management (ERM) at Nestlé. He is responsible of developing and maintaining an adequate ERM framework, methodolog...Full Bio

Philip Jordan
Senior Vice-President Ethics & Chairman of the Ethics Committee
Total

Philip Jordan, a graduate of Cambridge University, has been working in the Total Group for thirty five years. After 5 years in various positions in Supply and Marketing in the UK, he subsequently spent 7 years in the Sigma Coatings paints subsidiary in Belgium and then Italy. Returning to the oil...Full Bio

Ellen Hexter (Moderator)
Program Director, Chief Audit Executives Council, IT Audit Leaders Council, Mergers & Acquisitions Executives Council, Strategic Risk Management Council, and Strategic Risk Management Council
The Conference Board

Ellen Hexter is senior advisor, enterprise risk management at The Conference Board. She has served on the faculty of The Conference Board Directors' Institute and worked with boards to provide director training in risk management practices and the role of the board in ERM oversight.

Full Bio