The Conference Board Help Wanted OnLine® (HWOL)
Online Labor Demand Decreased 285,800 in May
01 Jun. 2016
May 2016 shows large drop following flat March and April
Losses widespread across virtually all States and MSAs
Special Note on the December 2015 large drop in demand (see page 7)
Download the complimentary National Historical Table.
Online advertised vacancies decreased 285,800 to 4,884,200 in May, according to The Conference Board Help Wanted OnLine® (HWOL) Data Series,released today. The April Supply/Demand rate stands at 1.53 unemployed for each advertised vacancy with a total of 2.7 million more unemployed workers than the number of advertised vacancies. The number of unemployed was around 7.9 million in April.
"The large May loss continues a pattern of weak employer demand in 2016," said Gad Levanon, Chief Economist, North America, at The Conference Board. "Following relatively slow growth in 2014 and 2015, we are now seeing some clear signs of softness in labor demand in recent months."
In May, the Professional category saw large losses in Business/Finance (−16.3), Computer (−21.5) and Architecture/ Engineering (−11.1). The Services/Production category saw the bulk of the May losses with large drops in Food (−23.6), Sales (−31.5), Office/Admin (−38.4) Installation/Repair (−22.3) and Transportation (−60.6).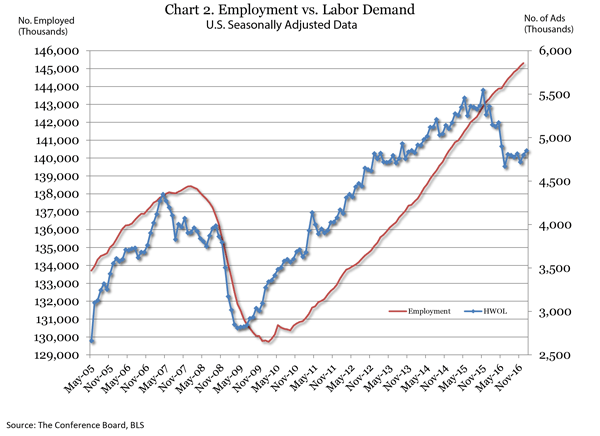 REGIONAL AND STATE HIGHLIGHTS
Among the largest States, 1 rose and 19 posted losses
Among the 50 States, 1 rose, 49 States declined
May Changes for States
In May, online labor demand was up in 1 State (see Table 3), and down in 49. All four regions experienced decreases.
The Midwest experienced a decrease of 82,800 in May (Table A). Wisconsin decreased 19,300 to 103,300. Illinois declined 12,300 to 188,500. Ohio declined 11,900 to 175,100. Michigan decreased 8,100 to 150,600 and Minnesota fell 5,700 to 133,000. Missouri decreased 6,400 to 88,400. Among the smaller States in the region, Indiana decreased 4,500 to 82,300, and Kansas decreased 3,500 to 40,600. Iowa declined 4,700 to 61,300, Nebraska fell 1,200 to 34,400, and North Dakota decreased 800 to 15,800 (Table 3).
The Northeast declined 49,500 in May. New York fell 16,000 to 278,300, the largest change in the region. Pennsylvania decreased 13,400 to 202,600 and Massachusetts decreased 4,300 to 149,000. New Jersey declined 9,800 to 148,500. In the smaller States, Connecticut lost 2,600 to 58,900. Maine decreased 300 to 20,100 and New Hampshire fell 1,700 to 23,700. Rhode Island fell 500 to 15,200 and Vermont dropped 400 to 10,200.
The West decreased 50,400 in May. Washington increased 18,100 to 154,900. California decreased 33,900 to 582,900. Colorado decreased 5,100 to 118,200 and Arizona fell 5,700 to 101,200. Among the smaller States in theWest, Oregon decreased 3,100 to 77,100 and Utah declined 4,300 to 59,700. Nevada decreased 1,600 to 46,300. Idaho decreased 1,400 to 23,800, and New Mexico decreased 1,500 to 25,900. Montana decreased 2,000 to 20,300 and Wyoming decreased 3,800 to 7,800.
The South decreased 130,800. Among the larger States in the region, Texas fell 41,100, to 340,100. Virginia decreased 14,900 to 154,400. Florida decreased 12,200 to 257,400 and Georgia decreased 8,500 to 156,900. North Carolina decreased 9,600 to 130,700. Maryland fell 5,500 to 102,400. Among the smaller States, Alabama decreased 4,500 to 46,800. Tennessee decreased 8,900 to 81,800 and Kentucky declined 3,700 to 48,600. South Carolina fell 3,600 to 60,200 and Oklahoma decreased 7,100 to 39,200. Louisiana fell 3,000 to 44,400 and Delaware decreased 600 to 15,900.
Supply/Demand Rates: Help Wanted OnLine calculates Supply/Demand rates for the 50 States (Table 4). The data are for April 2016, the latest month for which State unemployment figures are available. There were 8 States in which the number of advertised vacancies exceeded the number of unemployed: South Dakota (0.58), Colorado (0.68), New Hampshire (0.76), North Dakota (0.78), Utah (0.80), Minnesota (0.83), Nebraska (0.86), and Iowa (0.99). The States with the highest Supply/Demand rates were Louisiana (2.78), Mississippi (2.73), Alabama (2.62), and West Virginia (2.35), which had more than two unemployed workers for every job opening.
Please note that the Supply/Demand rate only provides a measure of relative tightness of the individual State labor markets and does not suggest that the occupations of the unemployed directly align with the occupations of the advertised vacancies.
METRO AREA HIGHLIGHTS
In May, 1 rose, and 51 metro areas declined (Table 5)
Metro Area Changes
In May, labor demand rose in 1 of the 52 largest metro areas and fell in 51. The MSAs with the largest changes in each of the regions were: Chicago (−10,400) and Milwaukee (−6,500) in the Midwest; Seattle-Tacoma (11,600) and Los Angeles (−9,800) in the West; Dallas (−11,800) and Houston (−11,500) in the South; and New York (−10,100) and Philadelphia (−6,800) in the Northeast (See Table B and Table 5).
The West decreased 50,400 in May. Seattle-Tacoma increased 11,600 to 100,900 and Los Angeles decreased 9,800 to 176,100. San Francisco fell 1,000 to 121,800. Denver fell 2,600 to 69,900. San Jose decreased 3,000to 56,000. Phoenix decreased 4,200 to 71,600. San Diego decreased 1,600 to 50,200. Portland decreased 400 to 48,500. Sacramento decreased 1,900 to 30,900 and Salt Lake City decreased 2,000 to 34,400. Honolulu decreased 900 to 13,900.
The South decreased 130,800. Dallas decreased 11,800 to 114,100 and Houston decreased 11,500 to 68,200.
Washington, DC decreased 9,300 to 153,100. Baltimore decreased 3,700 to 53,500 and Miami fell 4,700 to 72,200. Atlanta decreased 5,000 to 103,400 and San Antonio fell 2,400 to 31,100. Tampa decreased 100 to 47,700 and Charlotte decreased 2,400 to 37,400. Birmingham decreased 100 to 13,600. New Orleans fell 600 to 15,900. Louisville decreased 1,500 to 20,200 and Nashville decreased 2,900 to 32,900.
The Northeast declined 49,500 in May. New York declined 10,100 to 272,900 and Philadelphia fell 6,800 to 100,100. Pittsburgh dropped 3,100 to 40,300. Boston decreased 1,100 to 115,500 and Buffalo decreased 800 to 17,100. Hartford fell 800 to 23,800 and Rochester decreased 1,600 to 13,700. Providence fell 1,100 to 20,900.
The Midwest experienced a decrease of 82,800. Chicago decreased 10,400 to 146,100. Detroit declined 3,900 to 70,800 and Milwaukee decreased 6,500 to 30,400. Minneapolis-St. Paul decreased 3,600 to 92,900. St. Louis decreased 2,300 to 44,600. Columbus fell 1,500 to 37,700 and Cincinnati decreased 2,400 to 38,400. Cleveland declined 3,100 to 32,300. Kansas City decreased 2,700 to 39,400 and Indianapolis lost 1,600 to 31,000.
The number of postings does not, however, tell the entire story. A crucial factor is how many unemployed people are seeking jobs and how much competition there is for the jobs that are available. The Conference Board HWOL's Supply/Demand rate relates the number of unemployed workers to the number of advertised vacancies. Based on January data (the latest available unemployment data for metro areas), 10 major metro areas saw more job openings than unemployed workers: Salt Lake City (S/D rate of 0.58), Denver (0.62), San Jose (0.67), Minneapolis-St. Paul (0.71), San Francisco (0.75), Washington, DC (0.82), Austin (0.83), Boston (0.89), Nashville (0.91) and Honolulu (0.95) (Table 6). Other favorable markets for job-seekers included Portland (1.09), Milwaukee (1.09), Kansas City (1.12), and Dallas (1.14).
In contrast, unemployed workers face great competition for each advertised position in Riverside (about 3 unemployed for every opening) as well as New Orleans (over 2 unemployed for every opening). In 45 of the 52 metro areas, however, there are now fewer than 2 unemployed per advertised opening. (See Table 6 for complete metro area Supply/Demand rates.)
OCCUPATIONAL HIGHLIGHTS
In May, two of the largest ten online job categories posted increases (Table C)
Occupational Changes for the Month of May
In May, two of the largest ten online job categories posted increases.
Healthcare practitioners and technical ads increased 3,600 to 628,100. The supply/demand rate for these occupations lies at 0.18, i.e. over 5 advertised openings per unemployed job-seeker (see Table C and Table 7).
Computer and mathematical science ads decreased 21,500 to 547,700. The supply/demand rate lies at 0.19, i.e. over 5 advertised openings per unemployed job-seeker. Business and finance ads decreased 16,300 to 292,200. The supply/demand rate lies at 0.58, i.e. over 1 advertised opening per unemployed job-seeker.
Transportation and material moving ads declined 60,600 to 317,100. The supply/demand rate lies at 1.79, i.e. over 1 unemployed job-seeker for every advertised available opening. Food Preparation and serving related ads decreased 23,600 to 244,800. The supply/demand rate for these occupations lies at 2.33, more than 2 unemployed job-seekers for every advertised available opening.
Office and administrative support ads declined 38,400 to 521,400. The supply/demand rate lies at 1.62, i.e. over 1 unemployed job-seeker for every advertised available opening. Sales and related ads decreased 31,500 to 509,800. Their supply/demand rate is 1.68, i.e. over 1 unemployed per opening.
PROGRAM NOTES
Special Note on the December 2015 drop of -284,000
The HWOL seasonally adjusted over-the-month change for December 2015 shows a drop in employer demand of 284,000. However about 220,000 of this drop has been traced to a single event which resulted in about a 200,000 drop in level for December and a residual drop of about 20,000 in January 2016. While all of the job board data was accurately reported, users of trend data may want to consider this as a non-economic event for analysis purposes.
HWOL available on Haver Analytics
Over 3,000 of the key HWOL press release time series are exclusively available on Haver Analytics. The available time series include the geographic and occupational series for levels and rates for both Total Ads and New Ads. In addition to the seasonally adjusted series, many of the unadjusted series are also available. The geographic detail includes: U.S., 9 Regions, 50 States, 52 MSAs (largest metro areas). The occupational detail includes: U.S. (2-digit SOC), States (1-digit SOC) and MSAs (1-digit SOC).
For more information about the Help Wanted OnLine database delivered via Haver Analytics, please email:
sales@haver.com or navigate to:
http://www.haver.com/contact.html.
For HWOL data for detailed geographic areas and occupations not in the press release, please contact:
Jeanne.Shu@conference-board.org.
__________________________________________________________________________
The Conference Board Help Wanted OnLine®Data Series (HWOL) measures the number of new, first-time online jobs and jobs reposted from the previous month for over 16,000 Internet job boards, corporate boards and smaller job sites that serve niche markets and smaller geographic areas.
Like The Conference Board's long-running Help Wanted Advertising Index of print ads (which was published for over 55 years and discontinued in July 2008), the HWOL series measures help wanted advertising, i.e. labor demand. The HWOL data series began in May 2005. With the September 2008 release, HWOL began providing seasonally adjusted data for the U.S., the nine Census regions and the 50 States. Seasonally adjusted data for occupations were provided beginning with the May 2009 release, and seasonally adjusted data for the 52 largest metropolitan areas began with the February 2012 release.
People using this data are urged to review the information on the database and methodology available on The Conference Board website and contact us with questions and comments. Background information and technical notes and discussion of revisions to the series are available at:
http://www.conference-board.org/data/helpwantedonline.cfm.
Additional information on the Bureau of Labor Statistics data used in this release can be found on the BLS website:
www.bls.gov.
The Conference Board
The Conference Board is a global, independent business membershipand research association working in the public interest. Our mission is unique: To provide the world's leading organizationswith the practical knowledge they need to improve their performance and better serve society. The Conference Board is a non-advocacy, not-for-profit entity holding 501 (c) (3) tax-exempt status in the United States.
WANTED Analytics, a CEB Company
WANTED is a leading supplier of real-time business intelligence solutions for the talent marketplace. Using technology to gather data from corporate career sites and online job boards, WANTED builds products to help our users make better human capital decisions faster. Users of our products include corporate human resources departments, market analysts and employment services firms as well as the federal, state and local labor market analysts that use HWOL. For more information, please visit:
www.wantedanalytics.com.
HAVER ANALYTICS®
Haver Analytics is the premier provider of time series data for the Global Strategy and Research community. Haver Analytics was founded in 1978 as a consulting firm and today provides the highest quality data and software for industry professionals. Haver provides products and services to clients in financial services, government, academia and various industry groups from consulting to manufacturing. From more information please see:
http://www.haver.com/contact.html.
Release Dates for 2016
July 6
August 3
August 31
October 5
November 2
November 30
The next release is scheduled for Wednesday, July 6 at 10:00 AM ET.
For further information contact:
THESE DATA ARE FOR ANALYSIS PURPOSES ONLY. NOT FOR REDISTRIBUTION, PUBLISHING, DATABASING, OR PUBLIC POSTING WITHOUT EXPRESS WRITTEN PERMISSION.