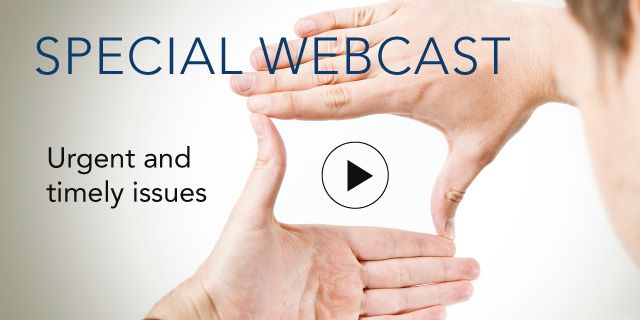 Regulation of Greenhouse Gas Emissions: Can the EPA Do It?

23 September, 2010 | (01 hr)
Sign In to access this Webcast
On July 22, 2010 Senator Harry Reid announced that the Senate would not take up climate change legislation, reducing the prospects of a cap and trade bill for the foreseeable future. Attention now turns to the Environmental Protection Agency (EPA), which may exercise its authority, granted by the Supreme Court in 2007, to regulate greenhouse gases (GHG) under the Clean Air Act. The EPA finalized its finding that GHG emissions "endanger public health and welfare within the meaning of the Clean Air Act" in December 2009.
On May 13, 2010, the EPA issued a final GHG rule targeting large-scale GHG emitters. Under the rule, as of July 2011, any new source of 100,000 or more metric tons of GHG emissions per year or any modification to an existing facility that results in an increase of 75,000 or more tons of GHG emissions per year will require a permit. To obtain a permit, a producer must demonstrate use of the "best available control technologies" to control GHG emissions. The EPA expects to issue about 550 permits within the first two years. In addition, in April 2010 the EPA issued GHG emissions and fuel efficiency standards for new cars and light duty trucks, starting with the 2012 model year.
The reality of EPA action opens a variety of scenarios for business that are very different from what was envisioned under a cap and trade bill, including litigation, economic impacts and compliance challenges.
Key Points to be covered:
How a regulatory approach instead of a cap and trade bill may affect business.
Examples of "best available control technologies" and their economic cost.
How regulation of GHGs differs from regulation of other forms of air pollution.
The status of legal challenges to the EPA, including from 15 states and industry groups.
Legal underpinnings of these challenges and the scope of the Clean Air Act.
Legal precedent and historical evolution of EPA regulations under the Clean Air Act.
Possible scenarios as EPA action unfolds.
Audience: Corporate environmental engineers and production managers, environmental and health & safety managers, VPs of sustainability, corporate social responsibility and citizenship, legal departments, investor relations, marketing and communications, financial analysts and strategists.
Speakers
Dr. John C. Dernbach
Distinguished Professor of Law
Director, Environmental Law Center
Widener University School of Law

John C. Dernbach is Distinguished Professor of Law, focusing on administrative law, environmental law, property, international law, international environmental law, sustainability and the law, climate change and sustainable development. He has served as director of the Policy Office at the Pennsy...Full Bio

Meleah Geertsma
Attorney
Natural Resources Defense Council

Meleah Geertsma's work focuses on regulation of greenhouse gases and other air pollutants. Prior to joining NRDC in 2010, Ms. Geertsma was an attorney at the Environmental Law and Policy Center in Chicago. There her practice consisted of permitting and regulatory matters under the Clean Air...Full Bio

Jeffrey Holmstead
Partner
Bracewell & Giuliani

Jeff Holmstead is the former Assistant Administrator of the United States Environmental Protection Agency (EPA) for Air and Radiation, and is one of the nation's leading air-quality lawyers. He heads the Environmental Strategies Group (ESG) at Bracewell & Giuliani in Washington, DC. He advise...Full Bio

Dinah A. Koehler, Sc.D. (Moderator)
Deloitte

Dinah Koehler, Sc.D. is research leader for sustainability and climate change at Deloitte Research – the research division of the Deloitte US firm. She earned her Doctor of Science degree in Environmental Science and Risk Management from Harvard's School of Public Health, did coursework at ...Full Bio