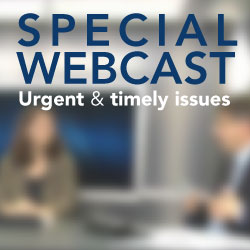 Special Webcast
Developing India's Leaders
15 August, 2013 | (01 hr)
Sign In to access this Webcast
Reflecting the views of Human Capital executives who attended The Conference Board's Leadership Development Conference in Bangalore in January, this research sheds light on leadership development challenges specifically in the Indian context, the precise actions necessary to address in order to increase the depth and quality of the leadership pipeline, ideas on retaining and motivating leaders, and aligning leadership behaviors with organizational strategy to insure future success.
Hear from two of India's most accomplished practitioners, now Senior Fellows in Human Capital at The Conference Board, who will share their knowledge based on a lifetime of experience and insights in this field.
Audience: Human Capital professionals charged with leadership development, strategic workforce planning, workforce readiness, diversity & inclusion, talent management, strategic human resources, employee engagement, or human capital analytics would benefit from this webcast.
Speakers
Harish Devarajan
Senior Fellow, Human Capital
The Conference Board

Harish has more than 27 years of experience in the corporate and consulting sectors. He started his professional career with TVS Sundram Fasteners Ltd. in 1985, and then in 1989 joined Hindustan Lever Ltd.,India's leading multi-national company.

Harish has worked in different roles ...Full Bio

R Vidyasagar
Senior Fellow, Human Capital
The Conference Board

R Vidyasagar, or Viddhi, as he is known in the professional circles, has over 25 years of varied professional experience covering the entire domain of Human Resources Management. Apart from the initial years with the manufacturing sector, he had spent a significant part of his professional career...Full Bio

Rebecca L. Ray, Ph.D. (Moderator)
Executive Vice President, Knowledge Organization
The Conference Board

Rebecca Ray is executive vice president, knowledge organization; human capital practice lead; and director of The Engagement Institute™ at The Conference Board. She is responsible for overall quality and the continuing integration of our research and engagement efforts. She oversees Full Bio