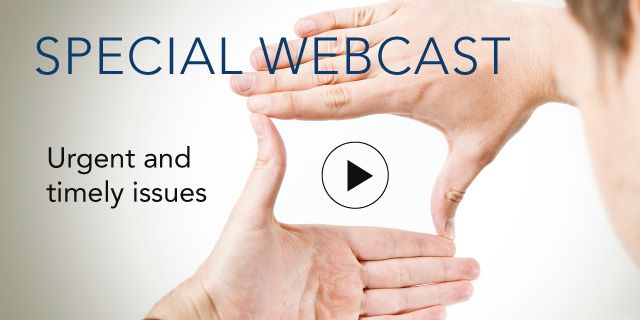 Senior Management Compensation: Getting Goal Setting Right

15 May, 2012 | (01 hr)
Sign In to access this Webcast
As seen from the first year of say on pay, shareholders' primary focus is performance, and pay aligned with performance. In response, companies are ratcheting up the portion of pay that is tied to performance. However, this is easier said than done. The key is setting goals that will result in the desired pay-for-performance alignment. The challenge is predicting the future as goals are being set in a volatile and uncertain market. Join a panel of experts who will discuss techniques and tools for getting goal-setting right, pitfalls to avoid, and other key learnings from practitioners like yourselves.
This webcast will explore:
• How to ensure goals reflect shareholder expectations and support sustainable shareholder value
• Tying the goal-setting process to the strategic business plan
• The role of discretion in assuring reasonable incentive payouts and differentiation of top performance
• Pressure-testing performance goals from multiple perspectives
Audience: Board Compensation Committee members, "C-Suite" Executive Officers, Chief Human Resource Officers, Senior VPs of Compensation and benefits, VPs of Compensation and other senior executives who are accountable to shareholders for the alignment of management pay and company performance.
Speakers
Robert J. Centonze
Vice President, Total Rewards
Campbell Soup Company

Bob Centonze is Vice President Total Rewards with the Campbell Soup Company. His role encompasses the planning, design, communication and administration of Campbell's global compensation and benefit programs. In addition, Bob focuses on executive compensation, Board governance and M&A d...Full Bio

Yonat Assayag
Partner
ClearBridge Compensation Group

Ms. Assayag is a partner at ClearBridge Compensation Group. Ms. Assayag has over fifteen years of experience advising boards and senior management on executive compensation issues and developing effective compensation strategies and design. Her experience spans a variety of industries in both the...Full Bio

Russell Miller
Founder and Managing Director
ClearBridge Compensation Group

Mr. Miller is founder and managing director of ClearBridge Compensation Group. Mr. Miller has over twenty years of experience advising boards and senior management on performance measurement and compensation strategy, with the goal of aligning rewards with shareholder value creation. Prior ...Full Bio

Brit Wittman
Director, Executive Compensation
Intel Corporation

Brit leads a global team responsible for the design, implementation and administration of all variable, equity and executive compensation programs for the 100,000+ employees of Intel. Additionally, Brit is responsible for the relationship with the Compensation Committee of the Board of Dire...Full Bio

Yale D. Tauber (Moderator)
Program Director
The Conference Board
Principal
Independent Compensation Committee Adviser, LLC

Yale D. Tauber is the Principal of Independent Compensation Committee Adviser, LLC, and the program director of The Conference Board Executive Compensation Conferences.

...Full Bio