Global productivity growth extends slowing trend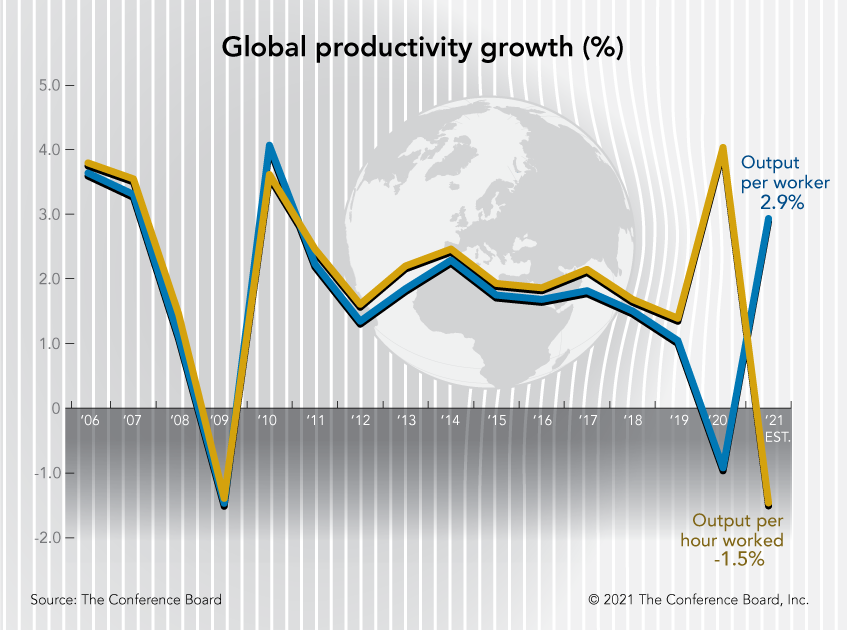 Higher labor productivity helps firms increase output more efficiently without increasing their input costs. As measured by output per worker, labor productivity fell globally by 0.9 percent in 2020, similar to the drop observed during the 2008-2009 Great Recession amid the global financial crisis. A more accurate measure of productivity accounts for the number of hours worked by each worker. Globally, output per hour worked, surged in 2020 to 4 percent almost symmetrically opposite of the drop in output per worker. A similar growth rate in global output per hour was last seen during the recovery from the Great Recession in 2010. The opposite movements are expected in 2021 for these two measures of productivity. The unusual divergence in the timing of the response of these measures in 2020 and 2021 points to the unprecedented disruptions brought on by the Global Pandemic for economies around the world.
In 2020, output per worker declined, as businesses retained their workforce despite working fewer hours, often with government support. However, overall output per hour increased, as productive capacity, particularly in labor-intensive and low productive activities was reduced, often drastically to control the pandemic. As the global economic recovery continues in 2021, we expect to see the reverse picture of 2020, with a decline in global output per hour worked and an increase in output per worker as many workers return to jobs in sectors most affected by pandemic mitigation regulations, particularly in the in-person services sectors.
While economies around the world are recovering in 2021-22, unemployment rates will return to low levels which means more firms will compete for fewer workers who may not be as productive, particularly in mature economies like the United States. Looking beyond 2022, lifting output per hour growth to similar levels of output per worker growth seen in 2022 would require businesses to focus on productivity enhancing investments such as automation and other digital technologies, training and skills, and organizational capital for a potentially hybrid (virtual and in-person) work environment.
Learn more:
PRESS RELEASES & iN THE NEWS
Our Experts
Thought leaders who provide trusted insights for navigating companies and the economy though COVID-19.