Total Economy Database™ - Key Findings
Comprehensive database with annual data covering GDP, population, employment, hours, labor quality, capital services, labor productivity, and Total Factor Productivity for 123 countries in the world.
Click on the Chart to Browse Data by Country and Region.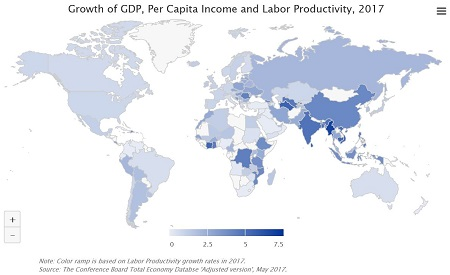 Productivity Growth Stabilizes in 2016, Some Upside Expected For 2017
View our press release here.
View the Total Economy Database Summary Tables & Charts here.
Key Findings of the May 2017 Release
GLOBAL DEVELOPMENTS

Global labor productivity growth stabilized in 2016 vis-à-vis 2015, bringing the ongoing decline of the past 4-5 years to a halt.
However, when looking at total factor productivity (TFP) growth, negative growth rates persisted into 2016 though at slightly more moderate levels than in 2015 – as weak employment and capital growth overcompensated the slowdown in global output growth.
For 2017 we project a decent uptick in labor productivity growth, as cyclical forces drive output growth ahead of increases in input use, though still well below its long term trend.

MATURE ECONOMIES

Labor productivity growth dropped off further in 2016, especially in the US, Japan and the UK and to a lesser extent in Europe.
TFP growth turned negative in 2016 in the United States and Japan, but remained slightly positive in other mature economies including the UK and Europe, as output growth stabilized in the light of the ongoing recovery.
The projections for 2017 show significant improvement in labor productivity growth as output growth sees an improvement over 2016, while labor growth stays behind, but with some important differences across countries:

US labor productivity growth is expected to improve in 2017 as labor growth – especially total hours growth – is expected to slow due to tightening labor markets, while output growth is likely to see an improvement.
The Euro Area will benefit from ongoing cyclical tailwinds typically fueling the procyclical productivity growth engine in 2017.
Japan and the UK are experiencing productivity improvements that are more strongly based on jobless productivity growth as both economies are facing tightening labor markets in 2017.

EMERGING MARKETS

Labor productivity growth saw a modest improvement for the aggregate of emerging markets and developing countries in 2016, despite largely unchanged output and employment growth rates. This is because regional employment shares are shifting from countries like China, whose share in regional GDP is increasing, to regions like the Middle East and Africa, where output shares are shrinking or stagnating.
While China's labor productivity growth benefited from slightly better output growth performance in 2016, its TFP growth remained strongly negative as growth in capital stock hardly slowed.
India experienced a modest slowdown in labor productivity growth in 2016 as output growth weakened, but remained among the highest growth rates in the region. Moreover, TFP growth rates were positive and strengthened as India's input growth (especially capital) slowed substantially in 2016.
Brazil's labor productivity and TFP growth rates remained in negative territory in 2016, as the pullback on input growth, especially employment, softened the productivity implications.
Overall the projection for labor productivity growth in 2017 in emerging markets shows a strengthening trend, in all regions except in Middle East and North Africa, though it remains well below its long-term trend.