C-Suite Challenge™ 2021 Leading in a Post-COVID-19 Recovery - France Edition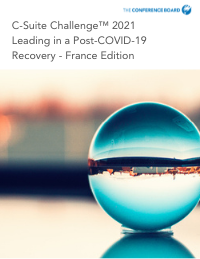 Authors:
Publication Date:
June 2021
Despite positive GDP growth expectations for France in 2021 and 2022—The Conference Board forecasts a 6.0 percent growth in 2021 and a 3.9 percent rise in 2022, compared to drop by 8.2 percent in 2020—, C-suite executives in France, as well as globally, appear unable to shake lingering concerns over recession risk. They rank it as the second highest external stress point for 2021. The COVID-19 health and economic crises dramatically in-terrupted global economic growth in 2020. While we anticipate a global rebound in 2021 of 5.2 percent year over year following a 3.7 percent decline in 2020, the outlook in each country is heavily dependent upon:
The evolution of the pandemic;
Government policy to control outbreaks;
Continued monetary and fiscal policy supports; and
Widespread availability of coronavirus treatments and vaccines.