C-Suite Challenge™ 2019: The Future-Ready Organization
Companies are evolving all the time: they grow, then split off into smaller parts, acquire and divest, innovate products, processes and services, adopt new technologies and engage differently with their customers and employees. And so it has been for centuries. But today, some might argue, there are fundamental paradigm shifts that are bringing companies as we have come to know them in past decades, to a different model. Regardless of past success, disruptive forces are rendering company and industry-wide structures and business models obsolete and profoundly altering the way we work and how companies create value.
Perhaps more than anything else digitization will be the key to the change in organizations and the people associated with them - be they workers, shareholders, customers, suppliers or frankly society as a whole. There are multiple forces which impact the relationship between the digital revolution and how the company of the future will look. What is the next phase of this evolution? What will the organization of the future need to look like, need to act like, to be successful? And what are the implications for the workforce, but specifically for leadership and talent: where it will be sourced, what skills will be needed and how will companies manage this evolving workforce? This moment therefore is crucial for organizations to reflect upon their strategy of the future.


Listen to an interview on this topic
In 2019, What's Keeping CEOs Up at Night?
| | |
| --- | --- |
| | The Conference Board's Chief Economist, Bart van Ark, went on the Knowledge@Wharton radio show to discuss key takeaways from our latest C-Suite Challenge, an annual survey of CEOs and C-Suite executives from across the globe. Share the Podcast Here |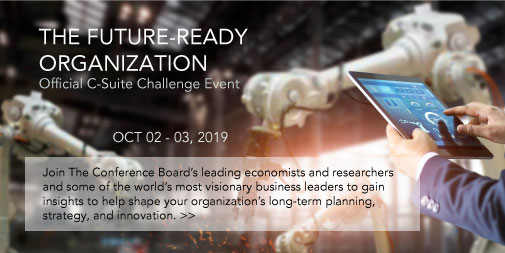 Connect with our experts on this topic
Attend an in-person briefing, presented by the researcher
Join our experts and leading executives:
The Future-Ready Organization Event | Oct 02 - 03, 2019
Watch a webcast, featuring Q&A with the researchers
Read a Blog about the topic
Learn more about the researchers
Bart van Ark | Charles Mitchell | Rebecca Ray | Ilaria Maselli