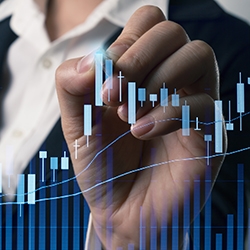 Workforce Analytics Institute Publications
Helping organizations in Asia accelerate their adoption of workforce analytics
Recent Publications
The realm of HR is continuing to expand. Its newest frontier: data engineering, data science research, data visualization, and technology implementation—the nuts and bolts of human capital analytics. Companies that consolidate all their people data into a single, cloud-based platform can use artificial intelligence (AI) and machine learning to help them improve employee engagement, determine which experiences and learning and development programs lead to better performance and more promotions, and improve the employee experience. Strive to turn your human capital analytics function into a center of expertise that can teach business leaders how to make better decisions.

Retaining the right talent is the key for high performance, especially in an uncertain economic environment. This report highlights the unique talent retention challenges faced by employers in Asia and sheds light on how organizations can leverage human capital analytics to aid their retention strategies. The report profiles the metrics organizations can use to measure their talent retention practice and highlights strategies based on a survey of HR practitioners in the region.

Using workforce analytics, organizations can systematically examine and evaluate the quality of their talent acquisition strategies to identify and implement the most effective means for finding talent. This report highlights the importance of prioritizing three key talent acquisition strategies—create a more compelling employer brand, expand recruiting channels, and implement strategic workforce planning—and profiles the key metrics organizations can use to develop their talent acquisition practice. In the long run, analytics can deliver substantial cost savings, as talent acquisition becomes a highly targeted process in which the most-suited and qualified candidates are attracted to join the organization.
Our discussions with practitioners at leading organizations (including GM, Shell, Verizon, and NSA) and review of HCA surveys and literature reveal that the gap between what organizations could do and are doing is shrinking.

In most of the Asia Pacific region, the catch-up phase in which productivity gains were easy to achieve by the introduction of technology is gone. Rising wage pressure, lack of adequate skills to leverage technology, ineffectual leadership, and low engagement levels are making it difficult for firms to deliver further productivity gains. Through the use of workforce analytics, organizations can systematically examine and measure the quality of productivity initiatives to identify and implement the most effective policies for workforce productivity and deliver the productivity gains that can make the difference between thriving and simply surviving.

Across Asia, skilled labor is in high demand, but workforce preparedness varies widely across the region, and each country faces different challenges when it comes to their skilled labor pools. We summarize the key challenges of four countries in the region—China, India, Indonesia, and the Philippines—and provide guidelines for using workforce analytics to address talent concerns in the region.
New trends are emerging in human capital due to changes in workforce demographics, advances in technology, and the rise of big data. This issue of Human Capital in Review focuses on various talent strategies and provides insights on how companies can address their talent challenges, including exploring untapped talent pools and being innovative in talent management.
Organizations throughout the world have been building up their analytic capabilities. Employers in Asia are no different. Faced with rapid changes in population demographics and a highly competitive economic climate, some employers in the region are using workforce analytics to manage and understand employees for competitive advantage.
For employers in Asia-Pacific, the next generation of human capital analytics may be a means of managing highly pressing employee issues prevalent in the region, such as rapid compensation growth and high employee attrition rates.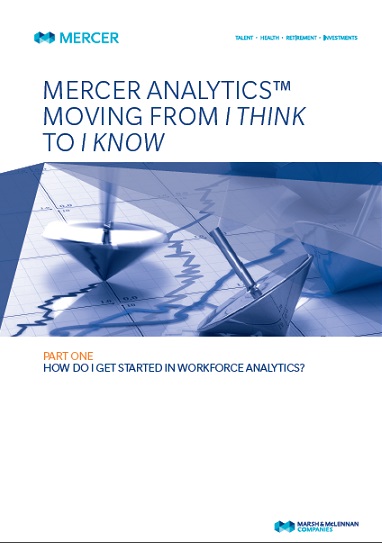 Addressing the disconnect between the desire to create evidence-based workforce action and the lack of organizational ability and experience to do this effectively.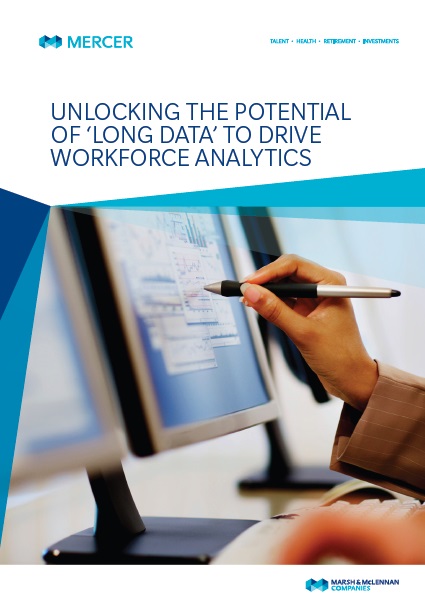 Big data provides deep analysis typically focused on a point in time, whereas long data provides insights from stories that have unfolded over time.
This report, which reflects the work of The Conference Board Research Working Group on Human Capital Analytics, looks at the current state of human capital analytics in terms of challenges, guiding principles, processes, models, and standards.
The right people in the right places: reducing business risks through effective workforce planning