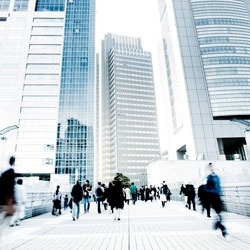 The Engagement Institute™
How Organizations Create and Sustain Highly Engaging Cultures
How Organizations Build and Sustain Highly Engaging Leaders
How Organizations Foster Employee Ownership of Engagement
Moments That Matter Throughout the Employee Life Cycle
Unlocking People Performance through Innovation
In 2013, The Conference Board, Deloitte, and Sirota, came together to create a research community of practice engineered to advance the impact of engagement practices to drive business results within organizations around the globe.
This research community of practice consists of cross-industry leaders who will partner with experts and work collaboratively to shape how organizations understand and drive engagement through a series of research activities and peer learning opportunities. Together, we will uncover new insights and develop new practices which drive continuous engagement improvement and quantifiable business impact.
Join as a Research Fellow
Join The Engagement Institute as a Research Fellow. Research Fellows lead engagement efforts at their respective companies and are the thought leaders who will drive the conversations and change the way we think about employee engagement.
Research Fellows will:
Guide the research priorities
Participate in our ongoing series of webinars
Shape the research agenda
Attend our annual Engagement Summit
Access our full suite of proprietary research and insights
Visit top organizations to learn about their engagement practices
Participate to the degree you choose in a research working group (led by experts, this group brings executives together to conduct research to solve a specific business issue, identify best practices, document findings and gain insights).
As a Research Fellow of The Engagement Institute™, you have exclusive access to the following:
Library of Resources – This resource page, exclusively available to Research Fellows, contains a variety of helpful reports, briefs, viewpoint articles, and studies from Deloitte, ROI Institute, Sirota and The Conference Board.
Virtual and In-person Working group sessions – With the guidance of subject matter experts and facilitators from Deloitte, Sirota, The Conference Board and The Culture Works, these sessions are designed to fully incorporate Research Fellows in identifying solutions to engagement challenges while helping them gain a broader perspective on, and deeper knowledge of, employee engagement. The result is a comprehensive report designed to shape a platform for enterprise-wide action and impact.
On-site Visit to a "Best Practice" Organization – Research Fellows will have the opportunity to visit an Employee Engagement "Best-Practice" organization to see engagement in action. The visit will also consist of discussions and Q&A sessions with organizational leaders.
Research Fellow Meeting Dates
US Meeting Dates
March 14-15, 2019 - Location TBD
June 27-28, 2019 - New York, NY
September 23-24, 2019 - Location TBD
US 2018 Employee Engagement and Experience Summit:
October 17-19, 2018 - Las Vegas, NV
Europe Meeting Dates
February 4-5, 2019 - Paris, France
June 17-18, 2019 - Edinburgh, Scotland
September 12-13, 2019 - Brussels, Belgium
Asia Meeting Dates
November 15, 2018 - Singapore