CEO Confidence Rises to 17-Year High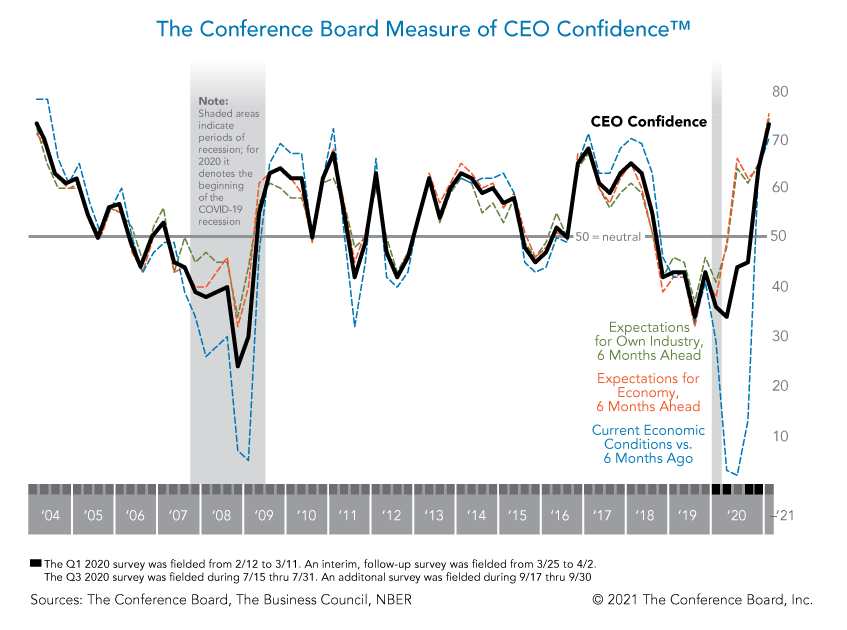 The Conference Board Measure of CEO Confidence™ in collaboration with The Business Council rose to a 17-year high in the first quarter of 2021, following a sharp increase in the September 2020 survey. The measure now stands at 73, up from 64. (A reading above 50 points reflects more positive than negative responses.) CEOs' assessment of economic conditions (blue line) remained positive overall, despite slower economic growth at the end of 2020 and a resurgence of COVID-19. CEOs' expectations about the future of the economy (orange line) and their own industries (green line) continued to improve and are well above prepandemic levels.
The latest survey shows that the outlook for employee wages has improved, and the potential for layoffs has receded. According to the latest results, a greater percentage of CEOs foresaw increasing their employees' wages by more than 3 percent over the next 12 months, and fewer CEOs said they anticipated reducing their workforce over the next 12 months. Talent shortages appear to be reemerging gradually: a greater percentage of CEOs report some trouble attracting qualified workers, in several areas according to the most recent survey conducted in the second half of January 2021. Over the coming months, if setbacks from the pandemic are avoided, this renewed optimism will likely translate into higher wages, employment, and investment over the next year.
PRESS RELEASES & iN THE NEWS
Our Experts
Thought leaders who provide trusted insights for navigating companies and the economy though COVID-19.