What Does China's Update of its Anti-Monopoly Law and New Regulations for the "Platform Economy" Mean for Business?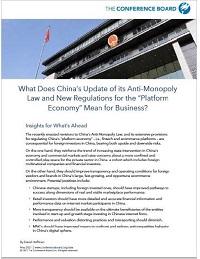 Authors:
Publication Date:
May 2021
The recently enacted revisions to China's Anti-Monopoly Law, and its extensive provisions for regulating China's "platform economy" – i.e., fintech and ecommerce platforms – are consequential for foreign investors in China, bearing both upside and downside risks.
On the one hand, they reinforce the trend of increasing state intervention in China's economy and commercial markets and raise concerns about a more confined and controlled play-space for the private sector in China, a cohort which includes foreign multinational companies and financial investors.