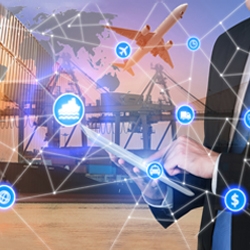 Procurement 2018 and Beyond
RPA (Robotic Process Automation), Blockchain and Negotiation Excellence
14 - 15 November, 2017
The Conference Board
New York, NY
14 - 15 November, 2017
Challenges You Might be Facing
The role of procurement continues to evolve. With new technologies advancing more quickly than ever before, those who remain in "business as usual" mode are destined to be left behind. Poor or inefficient procurement strategies will have negative business consequences. We are already seeing this occur.
About the Seminar
To ensure your organization's continued success, The Conference Board has gathered some of the most progressive minds in the area of procurement to provide visionary insight into how they are meeting their future procurement challenges, and how they see the industry evolving in the years to come.
Through a series of lectures, panels and case studies, this conference will provide you with a deeper understanding of the emerging trends of procurement, and provide detailed guidance on where you should be directing your attention over the next several years.
Confirmed speakers to date:
Michael Meaden, Vice President, Worldwide Production Procurement Sourcing, IBM Corporation
Joanne Couture, Executive Sourcing Leader, GE Global Operations – Sourcing, General Electric
Jose Varela, Vice President – Sourcing Operations and Package Engineering, 3M Company
The Benefits to You
Some of the key takeaways include:
Learning how to deploy robotics and automation to realize exponential efficacies
Modernizing procurement and shifting from a value-based model to a model focused on solving business challenges
Building a road map for deploying more tactical supplier contracts with win-win negotiations
Leaving with a deeper understanding of how technology will be a huge driver beyond 2018
Grasping how blockchain is already becoming an integral part of procurement strategy
Integrating these strategies early will position your organization above your competitors and allow you to securely work with the most advanced and preferred suppliers.
Who Should Attend
Anyone who is seeking to enhance the strategy, operations and measurement of their online community, including:
Chief Procurement Officers
Chief Operations Officers
Chief Technology Officers
Chief Human Resources Officers
Heads of Procurement
VPs, Directors and Managers of:
Procurement
Supply Chain
Supply Management
Supplier Relationship Management
Vendor Management
Category Management
Strategic Sourcing
Digital Sourcing
Purchasing
Strategy
Human Resources
Training and Development
Legal
Three Things to Do Now
1. Register

Register early and save $100. This offer ends September 30, 2017.
2. Save the Date
Block off your calendar for the following dates: November 14-15, 2017 at The Conference Board.
3. Get Involved!

If you would like to get involved in this year's conference, please contact us.