October 06, 2016
WHY?
Digital is set to revolutionize the world. Is your company set for this?
Businesses have always changed—in reaction to changes in the marketplace or in capabilities. But digital transformation presents a new set of challenges that traditional approaches to transformation cannot address. This unConference looks at digital transformation as a new kind of revolutionary change, exploring the implications for leadership teams and productivity and the types of innovation that will keep rapidly changing companies competitive.
WHO?
The unConference is designed for 400+ C-suite and senior level executives, leading different functions from large organizations and different industries.
WHAT?
The event will be an integrated blend of:
1. Open Sessions: plenary forum, tailored break-outs, panel discussion
2. Interactive Digital Solutions Fair
3. Council Sessions: peer-to-peer council meeting of your choice (limited availability).


---
A unique opportunity to learn, get insights, seek solutions, meet peers and network with Europe's top leaders.
6 OCTOBER 2016: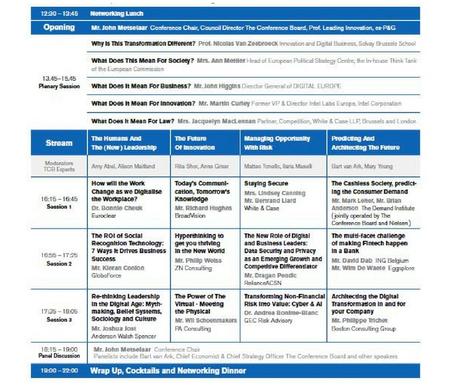 ---
WHERE?
Square, Brussels Meeting Centre
WHEN?
6 October 2016
MORE INFO?
Contact us: Johan Witters - +32 (0) 2 679 50 60
HOTEL RESERVATIONS
Click here to book your hotel
Discover more about the benefits of attending the Digital Transformation unConference in this highlight video: