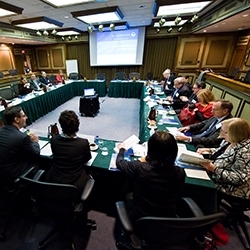 About Round Tables
The Conference Board Round Tables bring together peer-level executives in confidential, dynamic, cross-industry groups to learn from each other's experiences and discuss common themes. Participants have access to benchmarking, industry insights, and best practices to help shape strategic decisions.
Who should attend?
Round Tables are by invitation only and open to senior-level to C-Suite executives from all industries and functions; from both member and non-member companies.
Program
Similar to a mini-council meeting, Round Tables operate under Chatham House Rules and consist of a presentation followed by a practitioner-led discussion, Q & A, and/or round robin with fellow participants.
The presentation is tailored to the companies attending and will include insights on a recent research report.
Location and Time Commitment
Each Round Table is two-to-three hours with either a lunch or dinner, hosted by a member company on our premises.
Benefits of attending
Participants have the opportunity to:
Build a trusted support group of like-minded executives from a broad array of industries, functions, and regions.
Take advantage of the wisdom and experience of seasoned practitioners who facilitate the discussion and offer actionable insights and strategies.
Share challenges with peers focused squarely on helping participants discover a practical, actionable solution.
Cost
Complimentary to attendees
Contact
To register or to find out more about hosting a Round Table, contact malgorzata.tarkowska@conference-board.org