Total Economy Database™ - Key Findings
Comprehensive database with annual data covering GDP, population, employment, hours, labor quality, capital services, labor productivity, and total factor productivity for approximately — 123 countries in the world.
November 2016
Click on the Chart to Browse Data by Country and Region.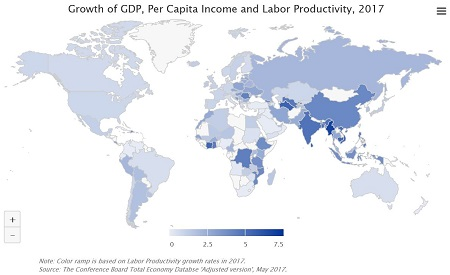 Rebound in Global Productivity Growth Not in Sight
Productivity developments in 2015
Growth in global output per worker slowed down in 2015, mainly because of a slowdown in output growth in emerging markets and developing economies:
Productivity in resources-rich economies in Latin America, Africa and Russia has declined on the back of declining oil prices.
China's labor productivity growth (using TCB alternative data series) declined substantially from 5.8% in 2014 to 3.7% in 2015, while the other major Asian economies including India are holding up relatively.
Output and productivity growth in mature economies remained steady although at modest growth rates:
The US economy almost repeated its 2014 performance of output/worker at 1.1% and output/hour at 0.7%.
Europe saw about 0.4 percentage point higher labor productivity growth in 2015 both in output per worker (up from 0.5 to 0.9%) and in output per hour (up from 0.4 to 0.8%).
In the UK, productivity growth on a total persons engaged basis remained more or less the same compared to growth in 2014, but a reduction in average hours worked caused productivity growth on hours worked basis to improve with 0.6 percentage points.
Japan's productivity recovered to positive territory to 0.6 %, both in terms of output per hour and output per worker.
Other advanced economies slowed down significantly, especially in Canada, Australia, and Taiwan.
Productivity developments in 2016
Global labor productivity growth in 2016 is expected to remain at 1.5%, the same rate as seen in 2015.
Emerging markets output growth is projected to remain stable in 2016, while employment growth will slow down slightly, so that growth in output per worker is expected to pick up a little.The improvements in productivity growth will mainly come from resources-rich economies, such as Russia, the Middle East and sub-Saharan Africa, and hence will depend on price developments.
Mature economies output and employment growth is expected to slow down proportionally, though the divergence is increasing:
GDP growth will slightly outstrip employment growth in the U.S. As a result, productivity as measured by output per worker will be stagnant, and slightly negative on an output per hour basis.
Europe and Japan are not seeing major changes in growth rates compared to 2015.
The UK output per hour growth rate is projected to drop to -0.1% from 0.7% in 2015.
Download the Total Economy Database Summary Tables & Charts
This document contains a number of tables and charts outlining the most important trends from the latest update of the Total Economy Database:
Summary Tables and Charts Nov.2016