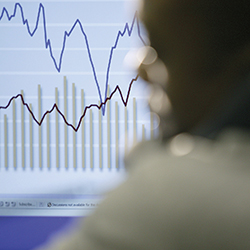 Economic Indicators & Forecasting
A broad range of indexes, forecasts and projections to help you understand and anticipate the conditions of the economy that will most affect your business, now and in the future.
The Conference Board Economics Watch®
Sign up for reminders to watch live
View on demand
Monthly U.S. and quarterly regional webcasts with forecasts and commentary along with a suite of economic indicators and analyses that provide a platform for strategic decision making. Complimentary for members of The Conference Board
Highlights
April 2015 | Economics Watch Reports
Economic growth in the Euro Area seems to be picking up, but further acceleration remains uncertain.
13 May, 2015 | Economics Watch®
The European economy is starting to recover but what are the implications for the labor market? When we will start to see more pressures on wages? What about job growth? Join us for an interactive discussion to discuss the dynamics of recovery on the European job market including country specific data. CPE credit available.
Products & Services