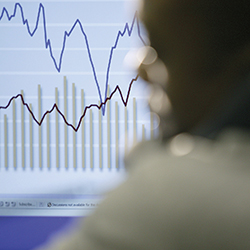 Economic Indicators & Forecasting
A broad range of indexes, forecasts and projections to help you understand and anticipate the conditions of the economy that will most affect your business, now and in the future.
The Conference Board Economics Watch®
Sign up for reminders to watch live
View on demand
Monthly U.S. and quarterly regional webcasts with forecasts and commentary along with a suite of economic indicators and analyses that provide a platform for strategic decision making. Complimentary for members of The Conference Board
Highlights
March 2015 | Key Business Issues
The legal function has a critical role to play in the stability, survival, and resilience of a company given the impending challenges in 2015.
15 April, 2015 | Economics Watch®
Europe's consumption market is strengthening. Join us for an interactive discussion on what has caused the increase in domestic demand, whether it will last, and how it might impact your business. CPE credit available.
Products & Services