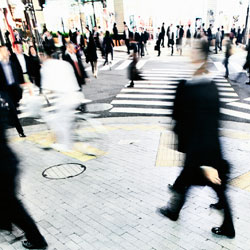 Human Capital Watch™
Human Capital Watch™: Compensation Trends
July 2012
18 July, 2012 | (01 hr)
To view the on demand recording of this webcast, your company must be a member of The Conference Board. Please sign in or create an account and you'll instantly be given access to all our member benefits, including this recording and our entire webcast archive.
As we move away from the depth of the recession and toward the Presidential election in the fall, human capital professionals wonder what the impact has been on compensation for workers, especially at the top of the organization? And just what does the future hold?
Join Rebecca L. Ray, Ph.D., Senior Vice President of Human Capital, The Conference Board as she speaks with Kevin F. Hallock, Ph.D., Distinguished Principal Researcher at The Conference Board and The Donald C. Opatrny '74 Chair of the Department of Economics and The Joseph R. Rich '80 Professor of Economics and HR Studies and Director of the Institute for Compensation Studies at Cornell University. Rebecca and Kevin will also be joined by Matteo Tonello, Managing Director of Corporate Leadership at The Conference Board, and coauthor of the new research report from The Conference Board, Executive Remuneration across Europe: A Handbook of Design, Disclosure, and Enforcement Rules.
Rebecca, Kevin, and Matteo will discuss some findings from two new reports from The Conference Board: The 2012-2013 Salary Increase Budget Survey and the 2012 Top Executive Compensation Report. They will also discuss changes in wages and wage inequality, and the difference between the costs of compensation to employees and the cost of compensation to employers, among other compensation topics. In addition, they will answer audience questions.
This session will offer new insights into compensation and why people earn what they earn, as well as offer new ideas for managers going forward.
Series Host
Rebecca L. Ray, Ph.D.
Senior Vice President, Human Capital, The Conference Board

Rebecca Ray is senior vice president, human capital at The Conference Board and the leader of the Human Capital Practice. Human capital research at The Conference Board focuses on human capital analytics, labor markets, workforce readiness, strate... Full Bio
Speakers
Matteo Tonello
Managing Director, Corporate Leadership

Matteo Tonello is managing director at The Conference Board. In his role, Tonello advises members of The Conference Board on issues of corporate governance, risk management, corporate sustainability and citizenship. He regularly participates as a ... Full Bio

Kevin Hallock Ph.D.
Distinguished Principal Research Fellow
The Conference Board

Kevin F. Hallock is the Donald C. Opatrny '74 Chair of the Department of Economics and the Joseph R. Rich '80 Professor of Economics and of Human Resource Studies at Cornell University in Ithaca, NY. He is also the Director of the Instit... Full Bio