The Conference Board CEO Challenge® 2013
Since 1999, The Conference Board CEO Challenge survey has asked CEOs, presidents, and chairmen across the globe to identify their most critical challenges for the coming year. The top five challenges selected by the 729 respondents to this year's survey are Human Capital, Operational Excellence, Innovation, Customer Relationships and Global Political/Economic Risk.
Download a copy of The Conference Board CEO Challenge® 2013 Report here.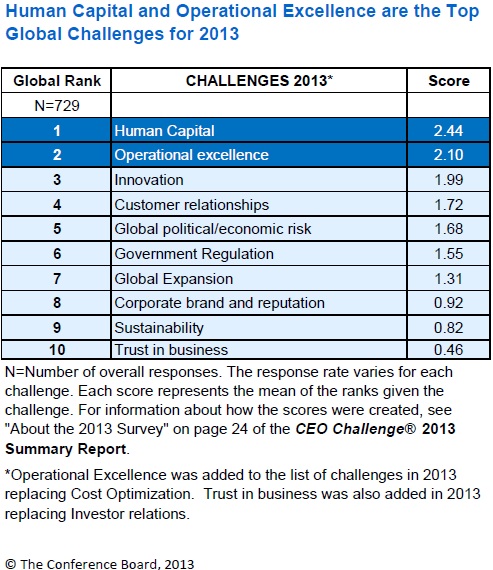 Click here to learn more about the CEO Challenge® 2013 results.


Regional partners for the CEO Challenge® 2013 include:
EUROPE & MIDDLE EAST
Chartered Management Institute, United Kingdom
Chambre de Commerce et d'industrie de Paris, France
Paris EUROPLACE, France
European School of Management and Technology, Germany
Hellenic Management Association, Greece
Gulf Investment Corporation, Kuwait

ASIA PACIFIC
Federation of Indian Chambers of Commerce and Industry
Fortune China
Hong Kong Management Association
Indonesian Institute for Corporate Directorship
Makati Business Club
Malaysian Institute of Management
Octant Foundation, Australia
Singapore Business Federation
Thailand Management Association


---

Additional Information
To help you and your organization make the most of the CEO Challenge report and its findings, The Conference Board is hosting a series of Business Perspectives Briefings in which our experts address 2013's concerns from CEOs around the globe.
The CEO Challenge website also contains valuable resources for C-level executives, including: