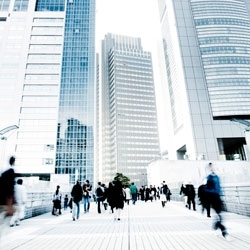 Human Capital Metrics Conference
Business Intelligence for Human Capital
03 - 04 November, 2011
New York Marriott Downtown
New York, NY
03 - 04 November, 2011 — Human Capital Metrics Conference
(Details are being shown below)

02 November, 2011 — Pre-Conference Seminar: Start a Performance Revolution: Understand the Impact of Investments in People
(Click to display details below)

03 - 04 November, 2011
Business Intelligence (BI) is readily becoming a common human resources function. Vendors are turning out powerful new products weekly. HR now has the tools to play a major role in managing their organizations.
BI runs on metrics and is driven by descriptive and predictive analytic tools. This conference goes beyond theories to real world examples. It answers the question, "What are the most effective applications?" The program features cases from organizations that have successfully applied BI thinking and tools to link HR services to business results. You will see how metrics and analytics from spreadsheets through data mining, OLAPs, predictive modeling and digital dashboards to human capital income statements are being used to leverage talent investments.
Examples of advanced descriptive and predictive applications will be demonstrated. You will learn how to apply these powerful tools to planning, staffing, development, engagement and create compelling reports. The focus will be on providing you with sample take-aways that you can employ immediately in your organization. And we will tell you how to beat the bad data/no data conundrum.
Pre-Conference Seminar: Wednesday, November 2, 2011

Start a Performance Revolution: Understand the Impact of Investments in People
Thursday, November 3, 2011

REGISTRATION AND CONTINENTAL BREAKFAST 7:45–8:30 AM
WELCOME AND INTRODUCTIONS 8:30–8:35 AM
Dr. Jac Fitz-enz, Conference Program Director, The Conference Board

A 8:35–9:35 AM
Keynote: Talent Intelligence: The Competitive Advantage that Optimizes Business Performance
Michael P. Gregoire, Chairman and Chief Executive Officer, Taleo

B 9:35–10:35 AM
Solving the Bad Data/No Data Problem
Dr. Michael E. Echols, Executive Vice President, Bellevue University's Human Capital Lab
Dr. Jac Fitz-enz, Chief Executive Officer, Human Capital Source

NETWORKING REFRESHMENT BREAK 10:35–10:45 AM

C 10:45–11:30 AM
Connect Everything, Empower Everyone
Greg Pryor, Director, Leadership and Organizational Effectiveness, Juniper Networks
Tim Wadholm, Workforce Planning & Analytics Senior Manager, Juniper Networks

D 11:30 AM–12:15 PM
Talent Development Reporting: The Evolving Standards for Human Capital
David Vance, President, Manage Learning

LUNCHEON 12:15–1 PM

E 1–1:45 PM
Trust and Collaboration: The Circle of Human Capital Analytics and JetBlue Airways
Julia Gomez, Director, People Analytics and Engagement, Jet Blue

F 1:45–2:30 PM
The (Re) Evolution of Human Capital Analytics at ConAgra Foods
K.C. Bradley, ConAgra Foods
Laurie Bassi, Mc Bassi & Co

NETWORKING REFRESHMENT BREAK 2:30–2:45 PM

G 2:45–3:30 PM
Leveraging Turnover and Exit Data to Increase Retention
Leigh Branham, Founder/Managing Principal, Keeping the People, Inc.

H 3:30–4:15 PM
Human Capital Financial Statements: Linking Workforce Metrics to Business Results
Jeff Higgins, Chief Executive Officer, Human Capital Management Institute

I 4:15–5:30 PM
Creating HR Business Intelligence: Strategies that Make Lasting Linkages Between the People Suite and the C-Suite
Moderator
Dr. Jennifer Moss Breen, Director Human Capital Management, Bellevue University
Panelists
Dr. Michael Bazigos, Strategy and Change Executive, IBM, Professor of Psychology and Education, Columbia University
Dr. Alec Levenson, Senior Research Scientist, Center for Effective Organizations, University of Southern California
Dr. Carolyn Youssef, Associate Professor, Ph.D. Program in Human Capital Management, Bellevue University
Bonnie Beresford, Vice President Client Relations, Capital Analytics

NETWORKING RECEPTION 5:30–6:30 PM
Friday, November 4, 2011

CONTINENTAL BREAKFAST, WELCOME AND RECAP 7:30–8:15 AM

J 8:15–9:15 AM
Driving Business Decisions: Successful Case Studies Demonstrate Results
Dr. Michael E. Echols, Executive Vice President, Bellevue University's Human Capital Lab

K 9:15–10 AM
Talent Management Intelligence
John Mattox, Director of Research, KnowledgeAdvisors
David Rubenstein, Director, Learning, Coldwell Banker Commercial

L 10–10:45 AM
Transforming an HRIS Metrics and Reporting Team into an HR Insights and Analysis Team
Natalie Tarnopolsky, Senior Vice President, HR Insights and Metrics, Wells Fargo Bank, Community Banking HR
Kathy Doan, Senior Analyst, HR Insights and Metrics, Wells Fargo Bank, Community Banking HR

NETWORKING REFRESHMENT BREAK 10:45–11 AM

M 11–11:45 AM
Engaging Governance with Human Capital Metrics for ROI
Vic Buzachero, Corporate Senior Vice President Innovation, Human Resources and Performance Management, Scripps Health

N 11:45 AM–1 PM
Panel: Owning a Seat at the Table
Moderator
Row Henson, HCM Fellow at Oracle, previously head of HCM Strategy,PeopleSoft
Panelists
Lexy Martin, Director of Research and Analytics, CedarCrestone
Stacy Chapman, Founder, Aruspex
Brian Kelly, Partner, Mercer
ADJOURNMENT 1 PM
For speaking and sponsorship opportunities, please contact Meg Gottemoeller at meg.gottemoeller@conferenceboard.org.