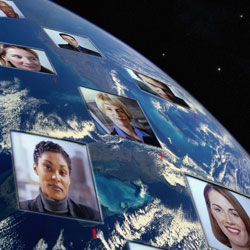 Experience highlights of our conferences and join in live Q&A on the issues they explore
Webcasts On Demand
April 21, 2015 01:00 PM , 05:00 PM UTC [17:00]

Explore how social media can help provide proactive employee communications. Join us to discover how you can develop a cross-functional communication strategy that is both open and credible and engages employees.
May 28, 2014 01:00 PM , 05:00 PM UTC [17:00]

General Electric (GE) has experienced success in hiring, developing, and promoting leaders who deliver business results. Hear how GE continues to evolve, building global capabilities to drive growth.
March 31, 2010 03:00 PM ET [15:00] (New York), 07:00 PM UTC [19:00]

This Conference KeyNotes Webcast will provide highlights of The 2009 Enterprise Risk Management Conference (October, 2009). Video footage of two headline presentations will set context for live questions and answers with the presenters.
December 09, 2013 03:00 PM , 08:00 PM UTC [20:00]

Author Daryl Conner, author of

Managing at the Speed of Change and Leading at the Edge of Chaos

, discusses the evolving role of leaders and the expectations of change practitioners.
March 04, 2013 03:00 PM , 08:00 PM UTC [20:00]

This webcast will reveal how to identify critical behaviors that predict success, mapping assessments to those behaviors and applying human capital financial analytics to demonstrate and sustain economic value.
September 23, 2013 01:00 PM , 05:00 PM UTC [17:00]

Hear the latest findings from a landmark industry-wide research study. Organizations, external coaches, internal coaches (and even executives!) were surveyed—revealing interesting similarities and differences in their viewpoints.
June 30, 2015 07:00 AM ET [07:00] (New York), 11:00 AM UTC [11:00]

Based on years of research conducted by her firm, leading communications coach and best-selling author Suzanne Bates will reveal a new, breakthrough model that clarifies the 15 indisputable qualities of executive presence.