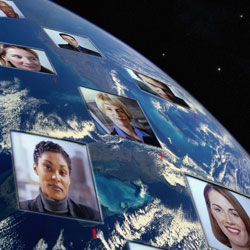 Experience highlights of our conferences and join in live Q&A on the issues they explore
Webcasts On Demand
May 23, 2012 01:00 PM , 05:00 PM UTC [17:00]

There is growing evidence that classic measures of customer loyalty are weak predictors of business outcomes. Hear about this award winning Harvard Business Review published thought leadership, in this practical "tools you can use" session.
August 27, 2018 11:00 AM ET [11:00] (New York), 03:00 PM UTC [15:00]

Cyberattacks are inevitable. Thanks to the internet's intrinsic vulnerabilities and the rapid advance of technology, attackers everywhere seem to be two steps ahead of defense capabilities. Join us to uncover cybersecurity strategies that can help your organization and institution battle cybersecurity threats.
June 15, 2017 11:00 AM ET [11:00] (New York), 03:00 PM UTC [15:00]

Recent attacks show how cyber risk is ever present and impacts all elements of an organization. In this webcast executives can learn how leaders from both the C-suite and the board must work seamlessly to comprehend, measure, and respond to these cyber threats. CPE (NASBA and IAPP) credit available
January 09, 2013 03:00 PM , 08:00 PM UTC [20:00]

Ross McAllister, Manager, Executive Development at FedEx Corporation, will lead a discussion about managing the pervasive and daunting challenge of data overload in the information age.
August 12, 2013 03:00 PM , 07:00 PM UTC [19:00]

This session will explain how Harris RF Communications, with its global reach, clearly defined its vision, aligned its leaders and processes, and are engaging employees to live the vision and create a common culture for marketplace success.
February 07, 2013 03:00 PM , 08:00 PM UTC [20:00]

In 2009, Cargill created a new global corporate function to manage transportation and logistics. Hear how they overcame challenges during a time of global market volatility to achieve major milestones and add significant value to the enterprise.
April 24, 2017 01:00 PM ET [13:00] (New York), 05:00 PM UTC [17:00]

Learn from a top organizational design expert and strategist about the benefits of undertaking organization transformation in an agile way, and discover how top industry professionals from Cigna and IBM have worked to build agility in their own organizations. HRCI, SHRM, and CPE credit available
November 04, 2013 12:00 PM , 05:00 PM UTC [17:00]

Given accelerated industry transformation, shrinking product life cycles, unorthodox competition, and the transparency of information, there remains only one true source of sustainable competitive advantage: innovation.