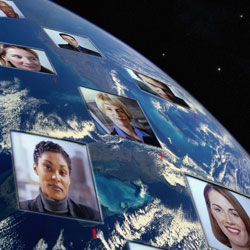 Conference KeyNotes
Experience highlights of our conferences and join in live Q&A on the issues they explore
Webcasts On Demand
13 July, 2015 03:00 PM EST [15:00]

Linda Parker Hudson, who recently retired as the CEO and president of BAE Systems, Inc. and serves on a number of company boards, will share her view of the importance of a senior leader's role in succession management in the context of today's realities.
16 June, 2015 03:00 PM EST [15:00]

This webcast will provide an overview of IBM, its strategy, and the markets it competes in, as well as an exploration of its philosophy and approaches to design organizations positioned to take advantage of market opportunities.
20 May, 2015 03:00 PM EST [15:00]

Join this webinar to discuss what you need to know to set up a HR analytics function, what you should be measuring, how to determine whether you are measuring the right things in the organization and finally, an understanding that it all starts with the "process".
18 May, 2015 03:00 PM EST [15:00]

Hear how The Brink's Company, a $3.8 billion global leader in the secure logistics and solutions industry, is transforming culture and reigniting growth with a strategic approach to the assessment, development, and management of its "Top 200" leaders.
29 April, 2015 03:00 PM EST [15:00]

Instead of continually pushing for lower turnover, significant value can be unlocked by reducing high-impact turnover. This session presents a case study that shows how to quantify the value of reducing the attrition of your highest performers.
23 April, 2015 03:00 PM EST [15:00]

Hear how men and women can join forces to create the workplace of the future by integrating their distinct strengths into a more effective style of leadership.
21 April, 2015 01:00 PM EST [13:00]

Explore how social media can help provide proactive employee communications. Join us to discover how you can develop a cross-functional communication strategy that is both open and credible and engages employees.