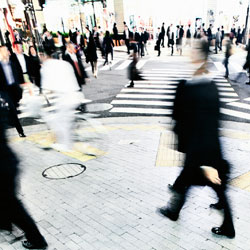 Human Capital Watch™
Human Capital Watch™
Future of Work in Asia
May 15, 2019 11:00 AM ET [11:00] (New York), 03:00 PM UTC [15:00] | Time Zone Converter
Join us for our May Human Capital WatchTM as we focus on the future of work in Asia.
A complimentary webcast series for members of The Conference Board that helps senior executives address challenges and stay informed about current issues across the entire spectrum of human capital. CPE credit available
A more in-depth description of this webcast will be available closer to program date.
Earn 1 CPE credit
HR/Personnel
Requirements : Attendees must be logged on for the duration of the webcast, participate in all interactive polls, and request credits via the on-screen form. Delivery Method: Group-Internet Based Program Level: Intermediate, Prerequisites: Bachelor's degree or higher, Advanced Preparation: None
Speakers
Rebecca L. Ray, Ph.D.
Executive Vice President, Human Capital; Executive Director, The Engagement Institute™
The Conference Board

Rebecca Ray is the executive vice president, human capital, at The Conference Board. She leads the US Human Capital Center and is responsible for the overall quality and continuing integration of our research and engagement for the betterment of our members. Human capital research at The Conferen...Full Bio

Charles Mitchell (Moderator)
Executive Director, Knowledge Content & Quality
The Conference Board

Charles Mitchell, the executive director, knowledge content & quality at The Conference Board, is responsible for the development of member-generated content and ensuring the objectivity, independence, accuracy, and business relevance of the organization's research. In recent years he h...Full Bio