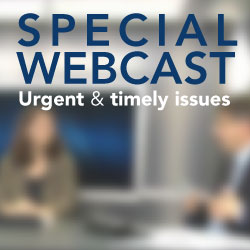 Special Webcast
Preparing for the Next Industrial Crisis?
Why millennials will make or break your company
November 16, 2017 03:00 PM CET [15:00] (Brussels), 09:00 AM ET [09:00] (New York), 02:00 PM UTC [14:00] | (1 hr) | Time Zone Converter
Today a new challenge has arisen that poses a significant threat to many of our industries and corporations. Workforces are increasingly demanding jobs and workplaces that are meaningful and leaving for lower paid jobs if their companies refuse to provide this meaning. On the other side of this challenge however, lies a tremendous opportunity: purpose-driven employees offer huge potential for growth and innovation.
Based on years of research, this webinar will explore the mechanics of human belief systems and provide you with a simple model for building deep purpose into your team or organization.
Key Takeaways:
Help your team or organization find its own compelling reason for being
Engage your team's emotive power through the principles of storytelling
Capture your team's intellectual power through codes and ideology
Harness your team's physical capacity through the use of rituals, rhythms, and recognition
Drive change from the bottom by building radical, benevolent insurgencies
Release intense levels of productivity throughout the year by using the power of 40: 40-minute sprint, 40 days of purpose, and 40 weeks of ambition
Click on the following link for a look at one of our many reports on this subject: Divergent Views/ Common Ground: The Leadership Perspectives of C-Suite Executives and Millennial Leaders
Speakers
Amanda Popiela
Researcher, Human Capital
The Conference Board

Amanda Popiela is a researcher in human capital for The Conference Board. She conducts research in a variety of topic areas including talent management, employee engagement, and diversity & inclusion. Her recent reports include Mental Health and Well-being in the Workplace and Di...Full Bio

Josh Jost
Marketing & PR Director
Almont Group

Josh is a keynote speaker and consultant on the topics of life purpose, meaning at work and brand engagement. He has advised companies ranging from Fortune 500 industrial giants to Silicon Valley fast movers and companies awarded as 'best places to work for'.

...Full Bio

John Metselaar (Moderator)
Co-Leader, Productivity and Innovation Center
The Conference Board

John Metselaar leads the Innovation Council for Europe, which is based in Brussels. He also serves as a senior fellow in innovation, leadership, strategy, culture and change, as well as digital transformation.

Metselaar is professor of management practice in "Leading and Living Inno...Full Bio