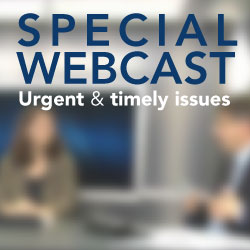 Special Webcast
Developing Gold Medal Leadership Characteristics Part II
25 March, 2014 10:00 AM EST [10:00], 03:00 PM CET [15:00] | (1 hr) | Time Zone Converter
Sign In to Register
Millions of people around the world have been inspired bythe performance, courage, and determination of elite disabled athletes. How have they achieved so much against all the odds? According to recent research from The Conference Board, today's business leaders require a clear sense of purpose, trust, collaboration, resilience, and performance edge. So what can business learn from elite disabled athletes? This three-part webcast series explores these leadership characteristics by talking to successful elite disabled athletes to understand what these characteristics mean to them and how they develop them.
Part II: Resilience
In an uncertain and volatile world, set-backs are inevitable. Successful leaders learn not just to bounce back but to bounce forward.
Talking points:
Overcoming setbacks
Moments of choice
Self-awareness and self-belief
Importance of trust and collaboration
You might also want to:
1. View the recording of Part I by clicking here
2. Register for Part III by clicking here
This program has been approved for HCRI credits.
To request HRCI credits:
Log into the live webcast session using your full name.
Request credits via the Q&A pod. Be sure to provide your email address.
Remain logged in for the duration of the program.
A completion certificate will be emailed to the address you have provided.
Speakers
John Harris
Former Paralympian Athlete

John Harris was paralysed at the age of 18 after he fell 18 metres from a fairground ride; and a full 17 years passed before he was selected to compete for Great Britain at his first Games in 1980.

The pinnacle of John's sporting career wa... Full Bio

David Learmond (Moderator)
Senior Advisor and Senior Fellow, Human Capital
The Conference Board

David Learmond is a senior advisor and senior fellow in human capital at The Conference Board. In these roles, he supports the human capital practice, which includes Human Capital Exchange™, research, conferences, w... Full Bio