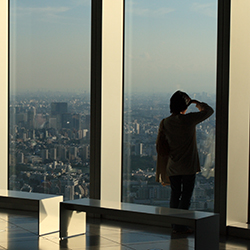 Window On
Window On The Tech Sector: Should We Tax the Robots?
25 October, 2017 | (01 hr)
Sign In to access this Webcast
Over the past decade, rapid advancements in digital technology have profoundly shaped the global economy and business landscape across all industries and sectors. This swell of technological advancement has raised concerns over its impact on income distribution and market competition. How concerned should we be about the effect of technological change on society?

Is there a risk that limited competition in the digital space discourages innovation? And can income inequality be solved with a tax on robots, a policy advocated by many influential figures in business?

Join us as we discuss how business leaders can address these concerns and shape the future of digital transformation.
Who Should Attend: Executives that are involved with digital transformation, innovation, strategic workforce planning, anti-trust regulations and public affairs, along with those interested in current events/policies and how they impact business
Earn 1 CPE credit
Management Services
Requirements : Attendees must be logged on for the duration of the webcast, participate in all interactive polls, and request credits via the on-screen form. Delivery Method: Group-Internet Based Program Level: Intermediate, Prerequisites: Bachelor's degree or higher, Advanced Preparation: None
Speakers
Ilaria Maselli
Senior Economist
The Conference Board

Ilaria Maselli is a senior economist for Europe at The Conference Board. Maselli has also been affiliated with the Brussels-based think tank the Centre for European Policy Studies (CEPS) since 2007; her latest position is research fellow.

Maselli&rs...Full Bio

Koen De Leus
Chief Economist
BNP Paribas Fortis

Koen De Leus graduated in Commercial Science from the Saint Aloysius Economics High School (EHSAL). Working as an analyst for Tijd Beursmedia, he was from 1998 onwards closely involved in the design and calculation of European sector indices. From 2004 to January 2006, he was Chief Economist for ...Full Bio

Michael Mandel
Chief Economic Strategist
Progressive Policy Institute

Dr. Michael Mandel is chief economic strategist at the Progressive Policy Institute in Washington, where he supervises PPI's research and policy work across a wide range of topics, including the data-driven economy, the impact of regulation on innovation, and policies to improve production,...Full Bio

Brian Schaitkin
Senior Economist
The Conference Board

Brian Schaitkin is a Senior Economist in U.S. Economic Outlook & Labor Markets at The Conference Board. He is part of a team working to expand The Conference Board's previous work on labor shortages. In addition, he will be leading efforts to expand coverage of regional economies in the...Full Bio

Bart van Ark (Moderator)
Chief Economist & Chief Strategy Officer
The Conference Board

Bart van Ark is executive vice president, chief economist, and chief strategy officer at The Conference Board. He leads a team of almost two dozen economists in New York, Brussels, and Beijing who produce a range of widely watched economic indicators and growth forecasts as well as in-depth globa...Full Bio