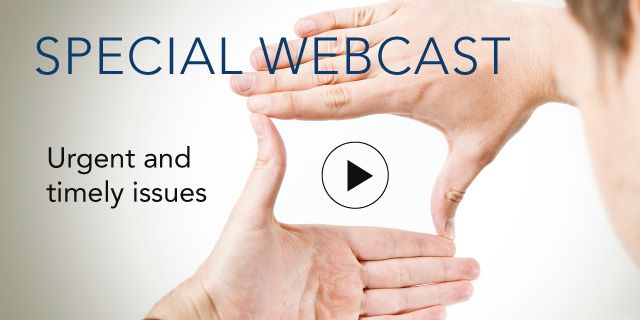 Window on America: Post-Inauguration Analysis

30 January, 2017 | (01 hr)
Sign In to access this Webcast
Ten days into the first 100 days of the Trump presidency, we ask what the global impact will be of decisions being made in Washington. The Conference Board invites you to join us for the third part of our webcast series, Window on America, which aims to give business executives an insider's view of critical economic, business, and policy issues affecting the world's largest economy.
The Conference Board Chief Economist Bart Van Ark will once again lead a panel of experts with perspectives from Washington, the rest of the America, China, and Europe in an enlightening discussion about the post-inauguration implications for global growth, investment, employment, and trade. We will also address potential policy responses in the rest of the world. Please join us for this live analysis of President Trump's agenda for business and the economy.
Who should attend: Those with an interest in the economic, business, and policy direction of the US economy.
Speakers
Steve Odland
President and CEO
The Conference Board, Inc.

Mr. Odland is the President & CEO of The Conference Board, Inc., the most widely cited private source of business intelligence. He brings to The Conference Board an extensive corporate background. He formerly served as Chairman & CEO of Office Depot, Inc. from 2005-2010; Chairman, Pr...Full Bio

Ilaria Maselli
Senior Economist
The Conference Board

Ilaria Maselli has been the senior economist for Europe at The Conference Board since March 2016. Maselli monitors the monthly business cycle of the European economy and contributes analysis to The Conference Board Global Economic Outlook. She also contributes to in-dept...Full Bio

Brian Schaitkin
Former Senior Economist
The Conference Board

Brian Schaitkin is a former Senior Economist in U.S. Economic Outlook & Labor Markets at The Conference Board. He is part of a team working to expand The Conference Board's previous work on labor shortages. In addition, he will be leading efforts to expand coverage of regional economies...Full Bio

Juergen Tinggren
Chairman of the Board of Directors
Bekaert, Belgium

Juergen Tinggren started his career in 1981 as Senior Associate with Booz Allen & Hamilton. He joined Sika AG in 1985 to take on various managerial and executive functions of increasingly broader scope and responsibility.

In 1997, Juergen joined the Executive Committee of Schindl...Full Bio

Ethan Cramer-Flood
Senior Fellow, China Center for Economics and Business
The Conference Board

Ethan Cramer-Flood is a Senior Fellow of The Conference Board's China Center for Economics and Business. Based in New York City, he helps direct the Beijing-based China Center and supports The Conference Board's Asia-based operations in Hong Kong and Singapore. Cramer-Flood is r...Full Bio

Bart van Ark (Moderator)
Senior Advisor
The Conference Board

Bart van Ark is a Senior Advisor of the Economy, Strategy and Finance (ESF) Center at The Conference Board. From 2008 until September 2020 he was Chief Economist and Head ...Full Bio