Sustaining Capitalism: Bipartisan Solutions to Restore Trust and Prosperity

23 February, 2017 | (01 hr)
Sign In to access this Webcast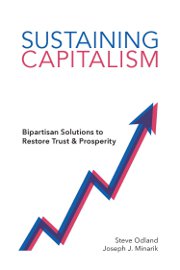 In 2017, the most daunting task to confront our policymakers will be answering the call from voters to make capitalism work for all. Solving a challenge this big requires leadership from beyond the policy community. Business leaders on the front lines of the economy have the experience needed to course-correct our economic system. Yet for too long, too many have stayed on the sidelines and avoided the public square. How can they address these challenges in a polarized political environment?
The Committee for Economic Development of The Conference Board's new book, "Sustaining Capitalism: Bipartisan Solutions to Restore Trust and Prosperity" looks at this question in depth.
Who Should Attend: Those with an interest in reforming public policy and/or reforming corporate governance policy.
Earn 1 CPE credit
Economics
Requirements : Attendees must be logged on for the duration of the webcast, participate in all interactive polls, and request credits via the on-screen form. Delivery Method: Group-Internet Based Program Level: Intermediate, Prerequisites: Bachelor's degree or higher, Advanced Preparation: None
Speakers
Steve Odland
President and CEO
The Conference Board, Inc.

Mr. Odland is the President & CEO of The Conference Board, Inc., the most widely cited private source of business intelligence. He brings to The Conference Board an extensive corporate background. He formerly served as Chairman & CEO of Office Depot, Inc. from 2005-2010; Chairman, Pr...Full Bio

Joseph J. Minarik
Senior Vice President and Director of Research
Committee for Economic Development

Joseph Minarik was the chief economist of the Office of Management and Budget for the eight years of the Clinton Administration, helping to formulate the Administration's program to eliminate the budget deficit, including both the Omnibus Budget Reconciliation Act of 1993 and the bipartisan...Full Bio

Diane Lim, PhD (Moderator)
Principal Economist
The Conference Board

As Principal Economist, Diane Lim develops, conducts, and communicates research as part of The Conference Board's economics and human capital practices. She studies and speaks on a wide variety of topics with particular focus on the role of public policy in influencing economic behavior and...Full Bio