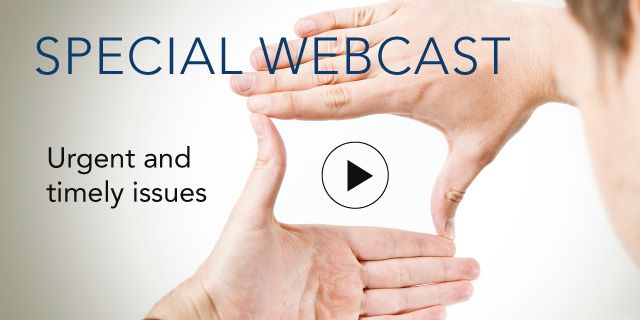 A Better Business Environment in Europe. Where? When?
The Conference Board Global Economic Outlook 2017
22 November, 2016 | (01 hr)
Sign In to access this Webcast
What does the economic landscape look like in the medium term in Europe? With a growth model shifting more heavily toward productivity, labor supply set to decrease, and investment remaining weak, what are the repercussions for the business environment? How do you position your business in such an environment? Join us on November 22 to find out.
Key Learnings:
What is the economic outlook for the world and European economies in 2017, 2017-2021, and 2022-2026?
What are the possible scenarios for post-Brexit Europe, and what does it mean for your business?
What can business do about the general slow growth environment?
Earn 1 CPE credit
Economics
Requirements : Attendees must be logged on for the duration of the webcast, participate in all interactive polls, and request credits via the on-screen form. Delivery Method: Group-Internet Based Program Level: Intermediate, Prerequisites: Bachelor's degree or higher, Advanced Preparation: None
Speakers
Klaas de Vries
Economist
The Conference Board

Klaas de Vries is an economist with The Conference Board. He closely follows developments in the global economy and researches the structural drivers of global growth and competitiveness relating to productivity and trade. He develops and maintains several large-scale growth and productivity data...Full Bio

Abdul Erumban
Senior Research Fellow
The Conference Board
Assistant Professor, Economics
University of Groningen

Abdul Erumban is an assistant professor at the University of Groningen, The Netherlands and a senior research fellow at The Conference Board. His research centers on the fields of productivity, technological change, structural change, digital transformation, and its impact, globalization, global ...Full Bio

Ilaria Maselli (Moderator)
Senior Economist
The Conference Board

Ilaria Maselli has been the senior economist for Europe at The Conference Board since March 2016. Maselli monitors the monthly business cycle of the European economy and contributes analysis to The Conference Board Global Economic Outlook. She also contributes to in-dept...Full Bio