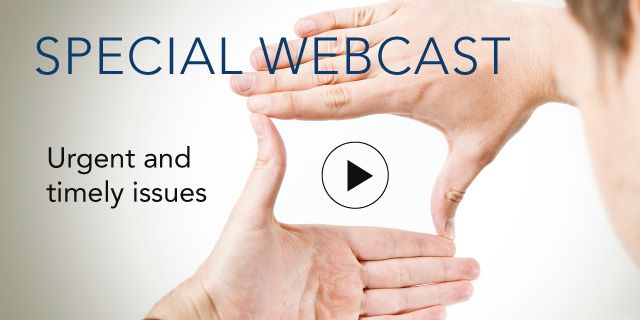 Unlocking Value from Integrated Corporate Communications and Marketing

17 November, 2016 | (01 hr)
Sign In to access this Webcast
When you think of business transformation, it's not often that corporate communications and marketing come to mind. But increasingly, these two functions are changing the face of business. Why? They are immersed in digitization; they're leading the corporate response to complex business environments; and they're managing the constantly shifting demands and expectations of stakeholders.
Given the vital role of these functions, many organizations are finding it makes sense to integrate them. Combined, the two functions' strategic input is more powerful and drives value across a range of areas. Learn what it means in practice to unite these functions.
Who should attend: Executives interested in understanding how better integration between corporate communications and marketing can benefit the business.
Earn 1 CPE credit
Communications
Requirements : Attendees must be logged on for the duration of the webcast, participate in all interactive polls, and request credits via the on-screen form. Delivery Method: Group-Internet Based Program Level: Intermediate, Prerequisites: Bachelor's degree or higher, Advanced Preparation: None
Speakers
Vanessa DiMauro
CEO
Leader Networks
Senior Fellow
The Conference Board Marketing and Communications Center

Vanessa DiMauro, CEO of Leader Networks, is a seasoned advisor and strategist as well as a popular author and keynote speaker. Vanessa works at the intersection of technology and collaboration to develop digital business strategies that increase competitive advantage for some of the largest and m...Full Bio

Mark Weiner
CEO
PRIME Research

Mark Weiner is the CEO of PRIME Research. Established as an academic research institute in Germany in 1987, PRIME has expanded globally to become one of the world's largest public relations research consultancies. It has a team of 100 account directors, 600 analysts and a complete portfolio...Full Bio

Alex Parkinson (Moderator)
Communications Institute Co-Leader
The Conference Board
Principal
Parky Communications

Alex Parkinson is Principal of Parky Communications, a communications agency specializing in sustainability and CSR reporting and communications. He serves as the Co-Leader of The Conference Board Corporate Communications Institute and is also Executive Editor of the organizat...Full Bio