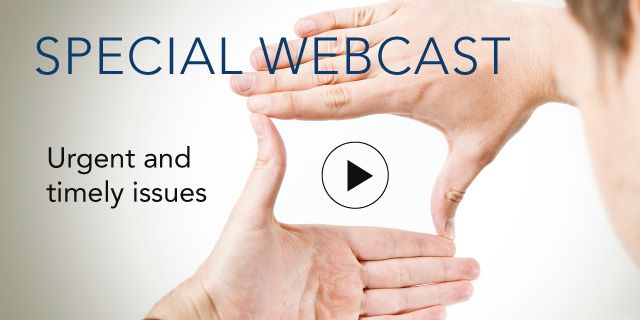 Author-to-Author: Digging Deeper into Digital Transformation

27 October, 2016 | (01 hr)
Sign In to access this Webcast
Researchers from two different knowledge areas of The Conference Board—Bart van Ark, chief economist, and Mary Young, principal researcher, human capital—come together for an informal and unscripted conversation about digital transformation and the opportunities and risks it presents for companies. Building on several recent reports, the researchers will engage each other and their webcast audience in a deeper dialogue about digital transformation's impacts.

Practical insights:
• Which economic and business results from digital transformation can we already measure?
• What are the obstacles for companies?
• What can we learn from successful companies' experiences?
Who should attend: This webcast will be of value to CxOs and leaders in strategy, digital business, technology, human capital, supply chain, marketing, risk, and sales.
Earn 1 CPE credit
Management Services
Requirements : Attendees must be logged on for the duration of the webcast, participate in all interactive polls, and request credits via the on-screen form. Delivery Method: Group-Internet Based Program Level: Intermediate, Prerequisites: Bachelor's degree or higher, Advanced Preparation: None
Earn 1 (General) IGP credit
Speakers
Bart van Ark
Senior Advisor
The Conference Board

Bart van Ark is a Senior Advisor of the Economy, Strategy and Finance (ESF) Center at The Conference Board. From 2008 until September 2020 he was Chief Economist and Head ...Full Bio

Mary B. Young, D.B.A.
Principal Researcher, Human Capital
The Conference Board

Dr. Mary Young leads The Conference Board's program of research on digital transformation's human capital impacts, big data and human capital analytics, and strategic workforce planning.

Mary is the author of more than 25 research publications from The Conference Boardin...Full Bio

Peter C. Davis
Senior Advisor
Boston Consulting Group

Peter ("Pete") C. Davis is an investor, Board member and consultant in the education and information services space. He has served for the past three years as Senior Advisor to Boston Consulting Group (BCG) and consultant to Acxiom Inc., a big data marketing services provider.

Full Bio