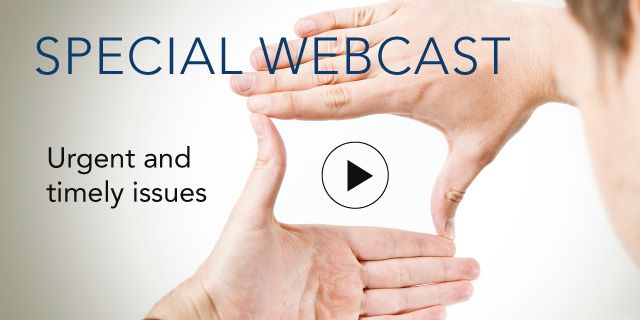 What Does the Brexit Decision Mean for Your Business

07 July, 2016 | (01 hr)
Sign In to access this Webcast
The "unexpected" Brexit vote has sent shock waves across the global business community, and the final impact still remains unknown. Our team of economists offers an analysis in our recent press release.
In our view (and despite the turmoil in financial markets), the "sky is not falling immediately, but slowly." The fallout from Brexit will add significantly to business uncertainty in coming months for anyone who is, in one way or another, affected by this event.
This webcast will be an opportunity for members to ask questions in real time as we offer insights on how businesses can manage during and after the transition period. We also invite you to submit in advance questions on Brexit to our Ask TCB service. Visit our Brexit webpage for more resources.
Earn 1 CPE credit
Economics
Requirements : Attendees must be logged on for the duration of the webcast, participate in all interactive polls, and request credits via the on-screen form. Delivery Method: Group-Internet Based Program Level: Intermediate, Prerequisites: Bachelor's degree or higher, Advanced Preparation: None
Speakers
Michael Keaveney
Regional Director, UK & Ireland
The Conference Board

Michael Keaveney was appointed Regional Director UK & Ireland at The Conference Board in October 2015. Prior to his appointment he was Director Great Britain at the British Irish Chamber of Commerce and took an active part in that organization's promotion of trade policy between Britain...Full Bio

Ilaria Maselli
Senior Economist
The Conference Board

Ilaria Maselli has been the senior economist for Europe at The Conference Board since March 2016. Maselli monitors the monthly business cycle of the European economy and contributes analysis to The Conference Board Global Economic Outlook. She also contributes to in-dept...Full Bio

Willem Overmeer
Senior Advisor
The Conference Board

Willem Overmeer is a senior advisor at The Conference Board and the program on Scenario Building & Analysis. He works closely with individual members of The Conference Board to identify critical trends in the corporate environment and translate these trends into scenarios that help shape entr...Full Bio

Bart van Ark
Outgoing Chief Economist; Program Director, CFO: Fortune 250 Council
The Conference Board

Bart van Ark is the outgoing chief economist of The Conference Board, a global business research think tank headquartered in New York which includes 500 of the top-2000 global companies among its members. Appointed in 2008, he oversees the production of widely watched economic...Full Bio

Andrew Tank (Moderator)
Executive Director, Business Development, Europe, Middle East and Africa

Andrew Tank is responsible for The Conference Board's membership in Europe, the Middle East and Africa. Associate Members receive on-going research in the fields of productivity, corporate governance and organizational effectiveness, information services and access to exclusive peer g...Full Bio