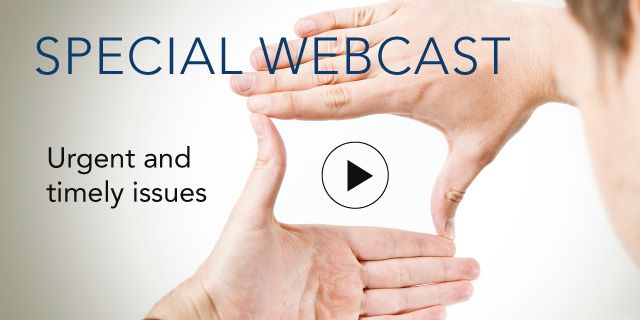 Navigating the New Digital Economy: Perspective on the U.S.

29 June, 2016 | (01 hr)
Sign In to access this Webcast
Despite rapid digital innovation, booming spending on digital services, and spectacular tech price declines, the New Digital Economy (driven by mobile, broadband, and cloud technologies) has had little visible impact thus far on hard measures of growth, productivity, or profits. Yet there are big differences across sectors in the economy. What are the key trends that explain those differences, and what can we learn from those? We make use of TCB research as well as insights from the MGI Industry Digitization Index to help businesses build better digital assets, expand digital usage, and create a more digital workforce.
Who should attend: Business executives directly or indirectly involved in organizations' digital transformation process, especially strategy and planning.
Earn 1 CPE credit
Managment Advisory Services
Requirements : Attendees must be logged on for the duration of the webcast, participate in all interactive polls, and request credits via the on-screen form. Delivery Method: Group-Internet Based Program Level: Intermediate, Prerequisites: Bachelor's degree or higher, Advanced Preparation: None
Speakers
Bart van Ark
Senior Advisor
The Conference Board

Bart van Ark is a Senior Advisor of the Economy, Strategy and Finance (ESF) Center at The Conference Board. From 2008 until September 2020 he was Chief Economist and Head ...Full Bio

Sree Ramaswamy
Partner
McKinsey Global Institute

Sree Ramaswamy is a Partner at the McKinsey Global Institute (MGI), McKinsey's business and economics research arm. He leads research on the economics of digitization and the economics of multinational corporations. He is responsible for shaping MGI's research initiatives, leading res...Full Bio

Ataman Ozyildirim (Moderator)
Senior Director, Economics and Global Research Chair
The Conference Board

Ataman Ozyildirim, PhD is the Director of Economic Research and Global Research Chair at The Conference Board. He specializes in the development of economic indicators and in forecasting aggregate economic activity worldwide. He also oversees The Conference Board's Global Economic Outlook a...Full Bio