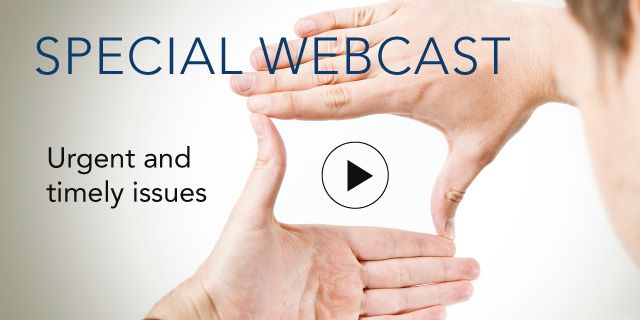 Board Oversight: A key pillar of sustainability leadership

26 July, 2016 | (01 hr)
Sign In to access this Webcast
While business leaders increasingly recognize the sustainability imperative, many are unclear on how to address this imperative. What are the key business practices that define leadership in corporate sustainability?

Recent research sheds light on this question and reveals active engagement from the board of directors and C-suite are key determinants of sustainability leadership. Join us as we examine current levels of engagement and illustrate recommendations for how boards and senior executives can strengthen their companies' leadership in corporate sustainability.
Who should attend: Senior leaders in sustainability or governance, including chief sustainability officers and general counsel, and company board members with responsibility for sustainability oversight.
Earn 1 CPE credit
Management Advisory Services
Requirements : Attendees must be logged on for the duration of the webcast, participate in all interactive polls, and request credits via the on-screen form. Delivery Method: Group-Internet Based Program Level: Intermediate, Prerequisites: Bachelor's degree or higher, Advanced Preparation: None
Speakers
Gib Hedstrom
Deputy Leader, Global Sustainability Center
The Conference Board

Gilbert (Gib) Hedstrom has been involved with The Conference Board for over 25 years. He is deputy leader of the Global Sustainability Centre at The Conference Board.

Hedstrom has over 30 years of experience advising CEOs and board members about how to handle difficult environmental...Full Bio

Veena Ramani
Senior Director, Corporate Programs
Ceres

Veena Ramani is a Senior Director in Ceres' Corporate Programs. Since July 2006, she has managed the relationships with a portfolio of Ceres network companies, and currently leads the program's work with the financial services sector. As a part of this, Veena works with senior company...Full Bio

Ken Tierney
Group Senior Vice President, Safety, Health, Sustainability and Community Relations
Sims Metal Management

Kenneth J. Tierney is the Group Vice President Safety, Health, Environmental, Community Relations and Sustainability (SHECS) at Sims Metal Management reporting directly to the Chief Executive Officer. Sims Metal Management, with 2015 sales of $6 billion and over 6,000 employees is one of the worl...Full Bio

Thomas Singer (Moderator)
Principal Researcher
The Conference Board

Thomas Singer is a principal researcher in the ESG Center at The Conference Board. His research focuses on corporate social responsibility and sustainability issues. Singer is the author of numerous publications, including Total Impact Valuation: Overview of Current Pra...Full Bio