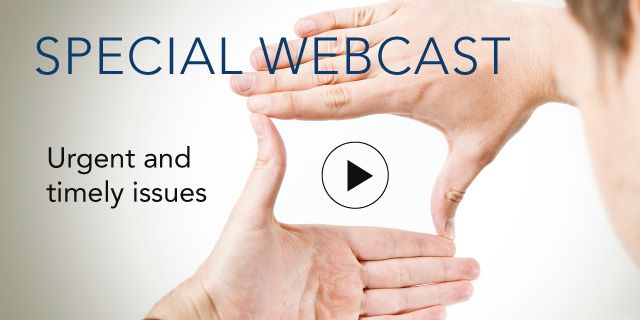 A Cross Functional Conversation about Cyber Security Risk

16 March, 2016 | (01 hr)
Sign In to access this Webcast
Cyber security risks impact your company's most valuable asset: its data. In response to both malicious and inadvertent breaches, companies have spent significant resources on IT infrastructure to harden security. But treating cyber risk as if it is only an IT risk may be a serious mistake, as noted in The Conference Board's recent publication, "Emerging Practices in Cyber Risk Governance." Join us for this webcast as we talk to executives from various functions who have responsibility for these risks.
Key takeways:
What are the different governance structures for managing cyber risk?
What does the legal and regulatory landscape look like currently?
How do executives effectively help boards of directors with oversight of cyber security?
How can you use communications to help with cyber security?
How do companies identify and assess internal and external threats?
Speakers
Brian Allen
Program Director, Business Continuity & Crisis Management Council and Global Security Executives Council
The Conference Board

Brian Allen is the Chief Security Officer for Time Warner Cable located in New York, NY. He joined Time Warner Cable in January, 2002 and has over 20 years of experience in the security field. In his role as CSO, Brian is responsible for the security posture and global protection of Time Warner C...Full Bio

Bertrand Liard
Partner
White and Case

Bertrand Liard heads the Intellectual Property and Information Technology practice in Paris, offering services in both contentious and non-contentious domains.

Bertrand has extensive experience in Intellectual Property, advising clients in IP rights protection, use and development (l...Full Bio

Thomas Kaufmann
Group Information Security Officer
Schindler

Working for Schindler since more than 25 years in several functions like System development, IT Manager for Switzerland, Mobile Service Manager for the Schindler Group, Chief Information Security Officer for the Schindler Group (since 2009).

Full Bio

Ellen Hexter (Moderator)
Program Director, Chief Audit Executives Council, IT Audit Leaders Council, Mergers & Acquisitions Executives Council, Strategic Risk Management Council, and Strategic Risk Management Council (Temp)
The Conference Board

Ellen Hexter is senior advisor, enterprise risk management at The Conference Board. She has served on the faculty of The Conference Board Directors' Institute and worked with boards to provide director training in risk management practices and the role of the board in ERM oversight.

Full Bio