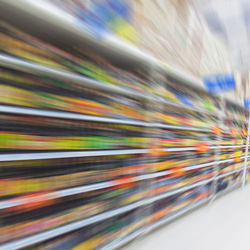 How Has Quantitative Easing Impacted the Euro Area Economy?
Sign In to access this Webcast
To support economic growth and job creation, the European Central Bank embarked on a quantitative easing (QE) program in March, purchasing European sovereign bonds and securities in an effort to bring inflation and inflation expectations back to the target rate of below 2.0 percent. Join us to explore how the QE has impacted the Euro Area economy. We will also discuss related issues, such as the need for a banking union and how such reforms are progressing. Furthermore, we discuss the general outlook of the Euro Area economy, reflecting on the first half of 2015 as well as the outlook for the second half of the year.
Speakers
Klaas de Vries
Economist
The Conference Board

Klaas de Vries is an economist with The Conference Board. He closely follows developments in the global economy and researches the structural drivers of global growth and competitiveness relating to productivity and trade. He develops and maintains several large-scale growth and productivity data...Full Bio

Charles-Henri Colombier
Director, Macroeconomic Analysis
Coe-Rexecode

Charles-Henri Colombier is Director of Macroeconomic Analysis at Coe-Rexecode, the Paris-based French economic institute dedicated to the private sector. He mostly focuses on analyzing and forecasting economic developments in the euro area.

Charles-Henri Colombier graduated in economics f...Full Bio

Ataman Ozyildirim (Host)
Senior Director, Economics and Global Research Chair
The Conference Board

Ataman Ozyildirim, PhD is the Director of Economic Research and Global Research Chair at The Conference Board. He specializes in the development of economic indicators and in forecasting aggregate economic activity worldwide. He also oversees The Conference Board's Global Economic Outlook a...Full Bio