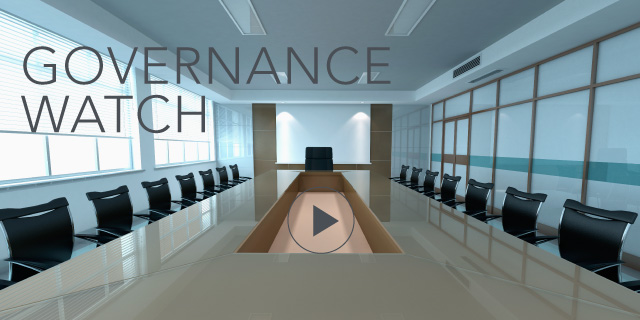 Governance Watch: Proxy Access--Perspectives on the Short and Long Terms

19 February, 2015 | (01 hr)
Sign In to access this Webcast
On January 16, the SEC announced that the Staff would review Rule 14a-8(i)(9) – the "direct conflict" grounds for excluding a shareholder proposal from a company's proxy statement – due to questions about the rule's proper scope and application. As a consequence, the Staff will not express views on the application of Rule 14a-8(i)(9) during this year's proxy season. This announcement has left many companies, not only the dozens that have received proxy access proposals, wondering how to proceed – how best to navigate their legal obligations, their interactions with shareholder proponents, and other relevant and sometimes competing considerations.
On February 19, our panelists will discuss the landscape confronting companies and institutional shareholders that are affected by the Staff's view of Rule 14a-8(i)(9). The discussion will include:
A brief overview of the history of proxy access
Views of institutional shareholders about director nominations and the shareholder proposal process
Options for companies that have received shareholder proposals
The possible use of the courts by companies or proponents
Potential reactions of proxy advisors and other third parties
CLE credit will be available for live webcast participation only. Cleary Gottlieb Steen & Hamilton LLP has been certified by the New York State Continuing Legal Education Board as an accredited provider of continuing legal education in the State of New York for the period December 1, 2013 through November 30, 2016.
Earn 1 CPE credit in the Business Law field of study

Requirements for receiving credits: Attendees must be logged on for the duration of the webcast, participate in all interactive polls, and request credits via the on-screen form.

Delivery Method: Group—Internet Based
Program Level: Intermediate
Prerequisites: Bachelor's degree or higher-level education
Advanced Preparation: No advanced preparation required
Speakers
Nicolas Grabar
Partner
Cleary Gottlieb Steen & Hamilton LLP

Overview

Practice focuses on international capital markets and securities regulation and on the representation of large reporting companies. Mr. Grabar plays a primary role in the firm's work for clients including leading Mexican...Full Bio

Rhonda L. Brauer
Senior Fellow, Governance Center
The Conference Board

Rhonda L. Brauer is a senior fellow with The Conference Board Governance Center.

Over her career, she has become a nationally recognized strategic and legal corporate governance expert for C-Suite executives and boards of directors of all-sized publicly traded companies in a wide ra...Full Bio

Pamela Marcogliese
Partner
Cleary Gottlieb Steen & Hamilton LLP

Pamela L. Marcogliese is a partner based in the New York office of Cleary Gottlieb Steen & Hamilton LLP. Ms. Marcogliese's practice focuses on corporate and financial transactions, particularly capital markets matters. She has considerable experience in initial public offerings and othe...Full Bio

Michael Garland
Assistant Comptroller for Environmental, Social and Governance
New York City Office of the Comptroller

Michael Garland is Assistant Comptroller for Environmental, Social and Governance for New York City Comptroller Scott M. Stringer. The Comptroller serves as investment advisor, custodian and a trustee to the New York City Pension Funds, which have approximately $135 billion in assets and a ...Full Bio

Donna Dabney (Moderator)
Former Executive Director, Governance Center

Donna Dabney, former Executive Director of The Conference Board Governance Center, is currently a Senior Advisor to the Governance Center.

Prior to joining The Conference Board, Donna was Vice President, Corporate Secretary and Corporate Governance Counsel of Alcoa Inc. and she part...Full Bio