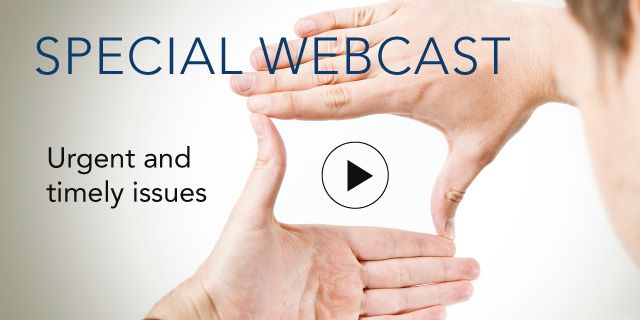 How Do Organizations Create and Sustain Highly Engaging Cultures?

21 October, 2014 | (01 hr)
Sign In to access this Webcast
Research Fellows of The Engagement Institute, with researchers from Deloitte, Sirota, and The Conference Board, studied 12 organizations of varying size, structure, services, and mission. The findings revealed eight core elements that are common to each organization:
Alignment of business and engagement strategy
An organizational philosophy that emphasizes a core purpose
Formal programs/policies that drive the engagement agenda
Open, proactive, leader-driven communication about engagement
A workplace and organizational structure that promotes collaboration and inclusion
A regular cadence for assessment and follow-up
Leaders who are expected and empowered to build engagement
Demonstration of business impact
All registrants will receive a complimentary copy of the report, The DNA of Highly Engaged Cultures. For more resources on this topic, please visit: https://www.conference-board.org/culture-of-engagement/

Who Should Attend: This webcast is a valuable source of information and insights targeted to CHRO, talent management, and learning & development professionals.
Speakers
Patrick Hyland, PhD
Director of Research & Development
Sirota

Dr. Patrick Hyland is a partner with The Conference Board in The Engagement Institute™ and has over 10 years' experience in organizational research and consulting. At Sirota, he is engaged in all aspects of survey research with clients such as F...Full Bio

Joe Kaplan
Human Capital Senior Manager
Deloitte Consulting LLP

Joe Kaplan has over 20 years of Human Resources, Organizational Effectiveness, Change Management, Training, and Leadership Development experience with a track record of improving profit, revenue, quality, and employee engagement by increasing the performanc and tenure of critical talent. As a lea...Full Bio

Rebecca L. Ray, PhD (Moderator)
Executive Vice President, Human Capital
The Conference Board

Rebecca Ray is the Executive Vice President, Human Capital, at The Conference Board. She leads the US Human Capital Center and is responsible for member engagement and retention as well as the overall quality and continuing integration of all research and offerings across the human capital spectr...Full Bio