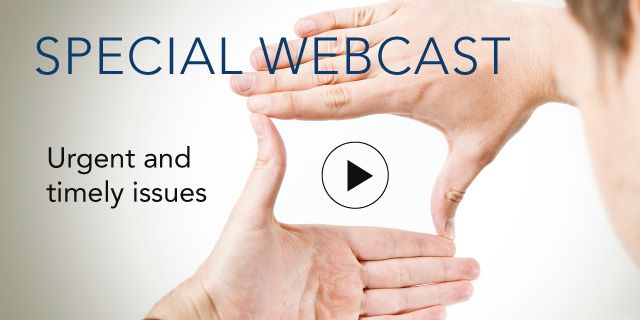 Do Ask, Do Tell: Encouraging Disability Self-ID in an Inclusive Workplace

22 September, 2014 | (01 hr)
Sign In to access this Webcast
Companies doing business with the US government have a new mandate as of March 24, 2014: people with disabilities (PWDs) must represent at least 7 percent of job applicants and 7 percent of every job group.
New research from The Conference Board shows what companies are doing today to build a disability-inclusive culture. Hear Prudential's strategy for achieving this while also meeting the new federal requirements for government contractors.
While 20 percent of workers will have a disability during their career, disclosing it in the workplace can be risky. Are PWDs more likely to self-identify in organizations that have a disability-inclusive culture?
This webcast was developed by The Conference Board (TCB) in collaboration with the Employer Assistance and Resource Network (EARN) funded by the USDOL Office of Disability and Employment Policy (ODEP).
This webcast will be captioned for those who are deaf or hard of hearing.
Who Should Attend: Professionals in the following fields: CHROs, Diversity and Inclusion, Equal Employment Opportunity and Affirmative Action, Labor and Employment Compliance, Talent Acquisition, Talent Management
Speakers
Michele C. Green
Vice President and Chief Diversity Officer
Prudential Financial, Inc.

Michele C. Green is vice president and Chief Diversity Officer at Prudential. She is responsible for leading and supporting all diversity and inclusion initiatives for the company, and for ensuring ongoing compliance with federal and state equal employment opportunity/affirmative action laws and ...Full Bio

Ashton A. Holt
Director, EEO & Diversity Analytics
Prudential Financial, Inc.

Ashton Holt is the Director of EEO/AA and Diversity Analytics at Prudential Financial, Inc., located in Newark, New Jersey. He is responsible for advising and overseeing the preparation and implementation of Affirmative Action Plans. In addition, he conducts employment studies such as...Full Bio

Mary B. Young, D.B.A. (Moderator)
Principal Researcher, Human Capital
The Conference Board

Dr. Mary Young leads The Conference Board's program of research on digital transformation's human capital impacts, big data and human capital analytics, and strategic workforce planning.

Mary is the author of more than 25 research publications from The Conference Boardin...Full Bio